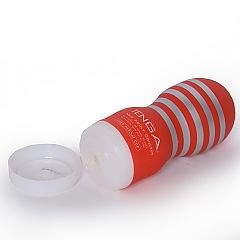 The Tenga Male Stimulator offer heightened stimulation, especially for men with hand dexterity challenges
Burnsville MN (PRWEB) December 26, 2013
IntimateRider, the company that developed the revolutionary RiderMate Deluxe, introduces the Tenga Male Stimulator. The new male stimulator that was crafted by Liberator is ideal for men with low level hand dexterity; it's also designed to stimulate the prostate in a more healthy, satisfying way.
"Masturbation is part of a healthy sex life," clinical sexologist, Dr. Gloria Brame shares, according to Men's Health. She goes on to say that, "It's healthier than brushing your teeth every day." The Tenga Male Stimulator aims to transform the perception of masturbation or self-pleasuring with the release of the product.
Benefits of using the product could have long term results, as found during a 2003 Australian study where men who ejaculated six or more times a week were discovered to be a third less likely to develop prostate cancer. Self pleasuring has also been shown to increase the release of cortisol, a hormone that, when released in small doses, can help strengthen the immune system.
Pre-lubricated soft jelly textured nubs and ribs on the interior of the Tenga Male Stimulator offer heightened stimulation, especially for men with hand dexterity challenges. For these men, griping a pen, writing, shaving and unlocking doors can be difficult. It's the Stimulator's easy ergonomic grip that makes self stimulation easy. The product is also built with a top air vent that can either be left open or closed with a fingertip, offering increased prostrate invigoration.
Partnering with Liberator to introduce the Tenga Male Stimulator was an easy choice for IntimateRider executives. Liberator has not only been developing safe sex products for 10 years, like IntimateRider, the firm aims to create products that enhance the intimacy that is shared between two caring adults.
In addition to the Tenga Male Stimulator, IntimateRider carries safe sex products such as the bestselling and aptly named IntimateRider, a mobility chair that helps couples overcome physical disabilities, allowing them to enjoy the same levels of intimacy adults not challenged with physical disabilities enjoy. Company officials have this to say about the IntimateRider, "The IntimateRider's patented technology allows you to achieve a broader range of motion with minimal effort, allowing you and your partner to unleash your intimacy in a way that was not possible before - the way you deserve."
The RiderMate, travel bags, a Liberator seat cushion and the RiderMate Deluxe are other products carried by IntimateRider. The Tenga Male Stimulator is another product that aims to give disabled men more intimacy options and healthy sex choices.
About IntimateRider
IntimateRider (http://www.intimaterider.com), a premier designer and manufacturer of health products and sexual positioning products for physically disabled men and women. IntimateRider products are designed to help adults with arthritis, multiple sclerosis, cerebral palsy, spinal cord injuries, joint replacements and other physical challenges to realize more fulfilling intimate relationships. The products have been on the market since 2006.
Contact:
IntimateRider
14310 Ewing Avenue South, Suite 100
Burnsville, MN 55306
952-873-6136
http://www.intimaterider.com
Sources:
http://www.dyspraxiausa.org/symptoms/adult-symptoms/
http://accessibility.gtri.gatech.edu/assistant/acc_info/factsheet_dexterity_mobility.php
http://abcnews.go.com/Health/Wellness/hidden-health-benefits-sex/story?id=16278890
http://www.menshealth.com/sex-women/masturbate-every-day