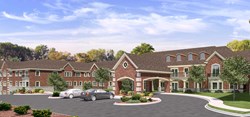 Just like retaining young talent is important to the vitality of a community, so is keeping our seniors close to home.
Bloomfield Hills, Michigan (PRWEB) December 18, 2013
A luxurious, full-service senior community has broken ground in Bloomfield Hills, Michigan. Cedarbrook of Bloomfield Hills, scheduled to open in September 2015, will be the only Continuing Care Retirement Community in the Birmingham/Bloomfield area. Located at 41150 Woodward Ave., just north of Opdyke, Cedarbrook of Bloomfield Hills will offer excellence in independent living, couples care, assisted living, memory care and skilled nursing.
Giving lifelong residents of the Birmingham/Bloomfield area the opportunity to stay in their hometown, while receiving the appropriate level of care they require, is top priority for this development.
"I grew up here. I went to school here and continue to remain active here. After decades of experience building retirement communities across the country, it was my mom who first encouraged me to bring full-service senior living to Bloomfield Hills," said Michael J. Damone, President of Cedarbrook Senior Living. "My goal is to develop a community that my mom would have been proud to live in."
Emphasis is placed on personal strengths and relationships at Cedarbrook, focusing on the individual capabilities of residents, and providing them every opportunity to thrive. Features include a partnership with the Wayne State University Institute of Gerontology, a wellness center for optimal fitness and rehabilitation, fine dining options prepared by an on-site executive chef, and access to many engaging activities. From a 1950s-style diner and Napa-inspired family dining room to outdoor courtyards and a movie theater, Cedarbrook is not a typical retirement community.
Luxury is standard at Cedarbrook. Residents will enjoy heated underground parking, some of the largest independent living apartments on the market, granite countertops, ceramic tile, stainless steel appliances, and a balcony or patio for every resident.
The 7.5-acre campus will feature a 164,000 sq. ft. building set into the hillside with distinct areas for each residency option. Advanced technologies include: state-of-the-art security systems, resident health monitoring systems, electronic records keeping and electronic pharmacy ordering and distribution.
"Just like retaining young talent is important to the vitality of a community, so is keeping our seniors close to home," said Reverend Monsignor Anthony Tocco of St. Hugo of the Hills Catholic Church, located directly behind the Cedarbrook site. "Our parish has been watching senior members move far away for years, and with them goes the wisdom, heart and soul of our community. Cedarbrook will be a welcome alternative."
As a Continuing Care Retirement Community, Cedarbrook of Bloomfield Hills will eliminate the anxiety and setbacks that repeated moves can cause for seniors by allowing residents to transition seamlessly within the same community as their need for care changes, with priority always given to existing residents. Unlike many other Continuing Care Retirement Communities, Cedarbrook is a rental community and large lump sum entrance fees are not required.
Pre-leasing is now available for all residence types. To reserve a spot for yourself or a loved one please visit http://www.CedarbrookOfBloomfieldHills.com or call 248.955.4956.
About Cedarbrook Senior Living
Cedarbrook Senior Living is a growing company that seeks to provide high quality senior living and assisted living services. The founding members of the company have been involved with senior housing for more than 20 years, developing more than 80 independent living, assisted living and memory care residences nationwide. Cedarbrook's philosophy for staff and residents is 'Celebrating life every day.' And we do.