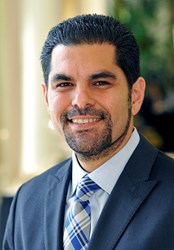 (PRWEB) December 18, 2013
G4S Secure Solutions (USA) Inc. is announcing Florida Regional Vice President Eddy Esquivel will lead the state's Private Investigation, Recovery and Security Advisory Council (PIRSAC) for the Division of Licensing at the Florida Department of Agriculture and Consumer Services.
Esquivel has been unanimously appointed Chairperson for the 2014 PIRSAC Council. He has 20 years of experience in the private security industry with G4S Secure Solutions.
"I am both humbled and honored to serve as Chairperson of the PIRSAC Advisory Council. G4S has been a part of the Council since its beginning," said Esquivel. "I am committed to working diligently with my fellow council members all of whom volunteer their time to make positive contributions to those industries regulated by the Division of Licensing."
The Council makes recommendations to Division of Licensing on legislative issues impacting the security, investigative, and recovery industries. The PIRSAC Council is also responsible for advising the Division on ways to protect the public from unethical business practices by private security, private investigative and recovery services through licensure and regulation of those industries.
Esquivel is active in the private security industry throughout the state of Florida. He is also the 2014 President of the Florida Association of Security Companies (FASCO).
About G4S Secure Solutions
G4S Secure Solutions is the nation's leading security company providing a wide range of security services and technology solutions. The G4S expertise in analyzing security needs and developing specialized programs enables customers to reduce the total cost of ownership for security and related services, and focus on quality improvement and risk reduction. For more information visit: http://www.g4s.us
About G4S
G4S is the leading global integrated security company specializing in the provision of security products, services and solutions. G4S is the largest employer quoted on the London Stock Exchange and has a secondary stock exchange listing in Copenhagen. G4S has operations in more than 120 countries and over 620,000 employees. For more information on G4S, visit http://www.g4s.com