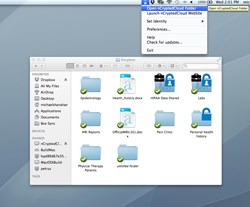 nCrypted Cloud is being recognized for its innovative, industry-leading product, nCrypted Cloud.
Boston, Mass. (PRWEB) December 19, 2013
nCrypted Cloud announced today that it has been recognized by this year's Fierce Innovation Awards: Healthcare Edition, a unique CIO-reviewed awards program from the publishers of FierceHealthIT, FierceHealthcare, and FierceMobileHealthcare. nCrypted Cloud won first place in the Privacy Security category. Some of the other nominees competing in this category included AirWatch and M2SYS Technology.
Wendy Johnson, FierceMarkets' healthcare group publisher, says, "The Fierce Innovation awards celebrate the companies who are leading the charge to boldly transform healthcare delivery. We were overwhelmed by the number and the quality of the applications we received."
Honorees were selected by a distinguished panel of CIOs and other executives from renowned U.S. hospitals and healthcare systems, including Mayo Clinic, Beth Israel Deaconess Medical Center, Boston Children's Hospital, Memorial Sloan-Kettering Cancer Center, and University of Michigan Hospitals and Health Centers. A complete list of judges can be found at http://www.fierceinnovationawards.com/healthcare/2013/judges.
Winners were selected based on the following criteria: impact on quality of care and patient outcomes; impact on care efficiency; impact on healthcare information exchange; technology innovation; financial impact; market validation; compatibility with existing health IT systems; end-user experience and overall level of innovation.
nCrypted Cloud is being recognized for its innovative, industry-leading product, nCrypted Cloud.
"Healthcare employees are demanding access to information on multiple devices, including personal and mobile," said Nick Stamos, nCrypted Cloud founder and CEO. "Collaboration between departments and different institutions also requires the ability to easily share patient medical information securely in cloud collaboration tools such as Dropbox. Users require access to their personal and institutional data anytime, anywhere, and anyplace, while being assured of the privacy of data with a seamless approach. We're pleased to be recognized for our ability to provide assured privacy and compliance of patient data in the cloud, while allowing healthcare institutions better visibility and control independent of network, device or application."
nCrypted Cloud is a data privacy and secure collaboration platform that solves the challenges of cloud storage and personal mobile devices for the healthcare industry by employing the 256-bit AES advanced encryption standard to encrypt mobile devices and other endpoints, essential for protecting HIPPA data to avoid breaches and associated fines. nCrypted Cloud's has signed many HIPAA-HITECH BAAs, including one with a Fortune 100 health insurance corporation after a three-month review process to ensure HIPPA compliance of data in the cloud. A key capability of nCrypted Cloud for healthcare is the ability to allow institutions -- through a single click -- to revoke access of corporate owned data across all devices, personal or corporate, and across all cloud storage accounts.
To learn more about nCrypted Cloud, visit http://www.ncryptedcloud.com. For sales or business inquiries, contact Tom Murphy at t(at)ncryptedcloud(dot)com.
About FierceMarkets
FierceMarkets, a wholly owned subsidiary of Questex Media Group, is a leader in B2B emedia, providing information and marketing services in the telecommunications, life sciences, healthcare, IT, energy, government, finance, and retail industries through its portfolio of email newsletters, websites, webinars and live events. Every business day, FierceMarkets' wide array of publications reaches more than 1.3 million executives in more than 100 countries.
Current publications include: Energy: FierceEnergy; FierceSmartgrid; Telecom: FierceWireless; FierceCable; FierceDeveloper; FierceOnlineVideo; FierceTelecom; FierceWirelessTech; FierceWireless:Europe; Healthcare: FierceEMR; FierceHealthcare; FierceHealthFinance; FierceHealthIT; FierceHealthPayer; FierceMedicalImaging; FierceMobileHealthcare; FiercePracticeManagement; Hospital Impact; Life Sciences: FierceBiomarkers; FierceBiotech; FierceBiotechIT; FierceBiotech Research; FierceCRO; FierceDiagnostics, FierceDrugDelivery; FierceMedicalDevices; FiercePharma; FiercePharmaManufacturing; FierceVaccines; Enterprise IT: FierceBigData; FierceCIO; FierceCIO:TechWatch; FierceContentManagement; FierceITSecurity; FierceMobileIT; FierceEnterpriseCommunications; Finance: FierceCFO; FierceFinance; FierceFinanceIT; Government: FierceGovernment; FierceGovernmentIT; FierceHomelandSecurity; and FierceMobileGovernment; Marketing & Retail: FierceCMO; FierceMobileRetail; FierceRetail; and StorefrontBacktalk.
About nCrypted Cloud
nCrypted Cloud is an easy to use, flexible secure collaboration application that seamlessly integrates with cloud storage service such as Dropbox, Google Drive, SkyDrive and Box. Founded in 2012, the company's patent-pending approach to cloud encryption provides the most secure platform for end-to-end encryption, respecting the privacy of end users, while meeting the data governance and enterprise control requirements of organizations. For more information, visit us at http://www.ncryptedcloud.com and follow us on twitter @ncryptedcloud.
###