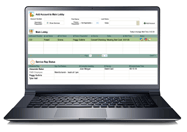 Alpharetta, GA (PRWEB) December 20, 2013
FMSI, a provider of student tracking applications for colleges and universities, announced today that Texas State University has adopted FMSI's Campus Lobby Tracker™ (CLT). The FMSI web-based solution will help better service the walk-in traffic for the San Marcos, TX based university's financial aid office—by allowing them to understand traffic flow patterns and identify employee coaching opportunities.
"We were interested in finding a solution to treat customers as an individual rather than a number," says Christopher Murr, Ph.D. Director of Financial Aid & Scholarships at Texas State University. "FMSI's Campus Lobby Tracker™ tracks why the student is there, and records the relevant information before helping us appoint them to the right employee based on their unique needs."
FMSI's software-as-a-service queue management system addresses some of the major concerns of today's financial aid office: maximizing the lobby experience for students and employees. Through the collection and analysis of lobby service interactions, CLT quickly empowers management teams with easy-to-read and actionable business intelligence. The FMSI system's dynamic online dashboard and reports include extensive performance management information, such as why students are visiting the financial aid office.
"FMSI's robust reporting, including real-time capabilities, will also help us better manage our operation," adds Murr. "The powerful information, such as wait times and assist times by hour, days of the week, and seasonality, allows us to analyze and improve our service levels."
"With so many students' futures riding on the financial aid office, it's imperative to have a streamlined lobby sign-in process," says W. Michael Scott, President/CEO of FMSI.
"Without queue management technologies, most colleges and universities struggle to effectively manage the long lines in their financial aid offices, and the student experience is suffering as a result. With a specific focus on higher education institutions, our unique solution for streamlining the lobby sign-in process, and collecting and preparing business intelligence, can help significantly improve the student service experience in your financial aid office."
About Texas State University
Texas State's more than 35,000 students choose from 96 bachelor's, 86 master's and 12 doctoral degree programs offered by the following colleges: Applied Arts, McCoy College of Business Administration, Education, Fine Arts and Communication, Health Professions, Liberal Arts, Science and Engineering, University College and the Graduate College. As an Emerging Research University, Texas State offers opportunities for discovery and innovation to faculty and students. Learn more at http://www.txstate.edu/.
About FMSI
Located in Atlanta, GA and established in 1990, FMSI provides a queue management and business intelligence system—the Campus Lobby Tracker™ (CLT). The easy-to-use, yet sophisticated application allows colleges and universities to enhance student service by reducing lobby wait times, creating a more cohesive unit among the staff, and enabling the employees to provide a streamlined consultation through more accessible electronic student conversation logs. Visit the company's website at http://www.fmsi.com/lobbyimprovement or call 877.887.3022 to schedule a complimentary online demonstration of our product.