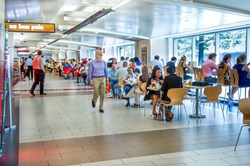 SmithGroupJJR's design transformation has greatly contributed to the success of L'Enfant Plaza Retail.
Washington, DC (PRWEB) December 19, 2013
SmithGroupJJR, in collaboration with The JBG Companies, was awarded a 2013 Award of Excellence by the Maryland/DC chapter of National Association of Industrial and Office Parks (NAIOP), a commercial real estate development association, for its development of the L'Enfant Plaza East Retail.
The NAIOP awards program, which each year recognizes outstanding projects in architecture, interior design and real estate in the Washington, DC/Maryland region, was held on Oct. 3, 2013 at the Willard InterContinental Washington, DC. The L'Enfant Plaza East Retail project won the award for "Best Retail Project, Dining & Entertainment."
The landmark site in Southwest Washington, DC is an important example of mid-twentieth century modernist urban planning at the mega scale. The existing 1.3 million-square-foot development, originally built in 1968, will be transformed into 3 million-square-feet of mixed use development including office, residential and retail. L'Enfant Plaza East Retail, as a refreshed retail destination, was one of the first steps in the plan to create a dynamic neighborhood. Construction of the 215,000-square-foot project was completed in 2013.
In designing the L'Enfant Plaza East Retail space, the SmithGroupJJR team transformed a space that previously felt "underground" into a bright and open destination for the 30,000 employees within walking distance of the plaza. The new space offers a mix of quality national brand foods and soft-good retail tenants. The designers created a strong sense of identity for L'Enfant Plaza with the introduction of a rich palette of materials and finishes and vibrant environmental graphics.
"SmithGroupJJR's design transformation has greatly contributed to the success of L'Enfant Plaza Retail," said Britt Snider, a senior vice president at The JBG Companies.
"The recipe was simple – introduce natural light and good artificial lighting, create a dynamic framework through the ceiling and floor design and let the retailers showcase their individuality," said Andrew Rollman, AIA, LEED AP, a leader with SmithGroupJJR's Workplace practice and Design Principal for the L'Enfant Plaza East Retail project. Rollman is widely recognized for his expertise in commercial, retail and mixed-use development throughout Washington, DC.
L'Enfant Plaza is a mixed-use development owned and managed by The JBG Companies, an investor, owner, developer and manager of office, residential, hotel and retail assets in Washington, DC's Metropolitan Area.
SmithGroupJJR is a national design leader in the workplace, corporate interior and mixed-use markets. Among the firm's recent completions is the 120,000-square-foot, 1700 New York Avenue office building for Carr Properties and Sentinel Square at 90 K Street, NE for the Trammell Crow Company. For Cityline Partners, SmithGroupJJR completed Scotts Run Station Master Plan— an award-winning, 40-acre mixed-use development plan in Tysons Corner, Va.
SmithGroupJJR (http://www.smithgroupjjr.com) is ranked as one of the nation's top design firms by Architect, the magazine of the American Institute of Architects. With 800 employees in 10 offices, SmithGroupJJR is a leader in sustainable design.
The JBG Companies (http://www.JBG.com) Headquartered in Chevy Chase, Md., is a private real estate development firm that develops, owns and manages office, residential, hotel and retail properties. The company has more than $10 billion in assets under management and development in the Washington, DC area. Since 1960, JBG has been active in the communities where it invests, striving to make a positive impact.