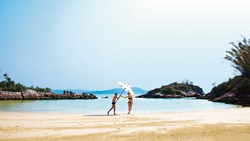 This is no Philippe Stark over-the-top hot mess...
(PRWEB) December 19, 2013
Viphoneymoon.com's Chief Trip Designer Michael Eiseman says, "Ponta dos Ganchos is sophisticated without being pretentious", that is the best way to explain the feedback from our honeymoon clients for this luxury resort near the southern Brazilian resort island of Florianópolis. Ponta dos Ganchos is named after the seaside point it resides on, with its bungalows hugging the cliff side terrain, it sits beside a charming and historic fishing village. This is no Philippe Stark over-the-top hot mess, instead it has a coziness and chic effortless glamour that Americans have in mind when they imagine the best Brazil has to offer. Their bungalows start at 860 square ft. (from $750 per night) and the top of the class Emerald Villas (from $1750 per night) all have cliff side ocean views, hot tubs, round soaking tub for two filled with bubble bath.
The hotel is made for honeymooning, most of the rooms have private plunge pools, and the staff welcomes any opportunity to shower guests with flowers and champagne. No children under 18 or large groups here, it's ideal for marriage proposals, honeymoons, small destination weddings, and anniversaries. Each night one couple gets to enjoy a romantic dinner on a tiny island that's reached by an illuminated boardwalk, and set ablaze with candlelight before they arrive.
Ponta dos Ganchos is a Relais & Châteaux property keeping with the level of chef and staff service one expects with the French brand of properties. For foodies, you will go full spoon ahead into a six-course tasting menu for Breakfast (which includes a "detox shot," fresh juice, and homemade breads)! Lunch and dinner changes daily, the chef fuses fresh and local ingredients to delight the most refined city palette. They have a special seafood grill running several afternoons a week and a menu that changes daily.
Ponta dos Ganchos is located less than an hour's drive from Florianópolis, in the very South of Brazil. TAM has several flights at day from São Paulo & Rio, easy connections from NYC, LA, Chicago, Atlanta on most major Airlines.
About VIPHoneymoon.com
VIPHoneymoon.com is a subsidiary of VIP Tour Group is a USA-based luxury tour operator specializing in life experiences and unique Honeymoons to South & Central America. We storyboard and customize each trip to your unique needs. Our experienced team of trip designers has personal knowledge of all the areas featured. From our extensive ground research we have become experts in fine-tuning itineraries so that wherever you go suits you perfectly. We believe that we can offer the best advice and service because we specialize only in South & Central America and our team is equipped with the language, cultural, and local knowledge of each destination. Contact our Trip Designers to customize your journey at (800) 772-9188.