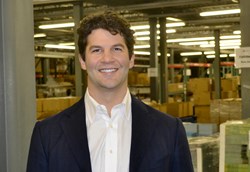 I am privileged to be joining iD Commerce + Logistics and know that we are set for achieving significant growth. – Joseph Patrevito
Wood Dale, IL (PRWEB) December 20, 2013
iD Commerce + Logistics, a leading provider of commerce and fulfillment solutions, has hired Joseph Patrevito as Vice President of Business Development. Patrevito brings over 8 years of sales experience within the fulfillment and logistics industry and will spearhead both of iD's Subscription and Ecommerce Industry practices.
"Joe is a real difference maker, we are proud that he is a member of our team going forward and we're certain our partners will benefit from Patrevito's proven track record and experience in our marketplace," said Dave Drayton, Senior Vice President of Sales.
Patrevito spent the last 8 years with Team Services where he specialized in developing fulfillment solutions for multiple brand names within the sports, beauty product, and food industries.
"I am privileged to be joining iD Commerce + Logistics and know that we are set for achieving significant growth," said Patrevito. "There is a great focus on teamwork and on the people of this company; this focus and their dedication to finding great partners is why iD is positioned to be an industry leader for years to come."
About iD Commerce + Logistics
iD Commerce + Logistics is an industry leader providing enterprise commerce and fulfillment solutions to the Multi-Channel Retail industry. iD leverages two decades of experience to develop personalized solutions that allow the management of all operations, technology, and customer relationships through a single partner. iD has received numerous industry awards, including Crain's Business Magazine's "Best Places to Work" in Chicago, and "101 Best and Brightest Companies to Work For" in Chicago by the National Association for Business Resources. iD has operations nationally, with offices in Chicago, Miami, Dallas, New York City, and Ft. Lauderdale. Company news and background information are available at http://www.idcomlog.com or call 630-694-7200.