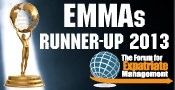 Our goal was to create a customer-focused company that made this process easy and affordable. We are proud of what we have accomplished.
New York, NY (PRWEB) December 19, 2013
Greenback Expat Tax Services was announced as the 2013 Runner-Up for the prestigious European Expatriate Management & Mobility Award (EMMA) for Tax Provider of the Year. The awards were presented on November 8 at The Lancaster London Hotel.
The EMMA's, created by the Forum for Expatriate Management, recognizes the efforts of companies providing outstanding services in the area of Global Mobility. To be recognized by the EMMA award, companies must prove they have made significant contributions to their industry. With innovative new ideas and a commitment to positively impacting the lives of their clients, EMMA award winners are clear forerunners in their industry who continually strive for greater improvement.
This is the first award for Greenback Expat Tax Services, who has been in business since 2008 and grown rapidly into a trusted, reliable expat tax preparation company. Greenback currently serves expats in over 90 countries and that number continues to grow.
American expatriates Carrie and David McKeegan are the founders of Greenback. They are expats themselves and were frustrated in their attempts to find an accurate, affordable service to file their US expat taxes. In true entrepreneurial spirit, they decided that if they couldn't find what they were looking for, they would create it. Together they built a global expat tax company, a highly specialized, customer-focused organization that made this tax process simple and hassle-free for expats around the world.
"As US expats, we were frustrated that we could not find a company who really understood our unique challenges," commented David McKeegan, co-founder of Greenback Expat Tax Services. "Our goal was to create a customer-focused company that truly made this process easy and affordable. We assembled an expert team of accountants and management professionals and we are so proud of all we have accomplished in this short period of time."
One of Greenback's innovative ideas was to adopt a virtual office environment. This allows the company to keep expenses to a minimum in order to offer lower prices to customers. In addition, the global nature of the company means they aren't limited to hiring accountants in any one geographic location. The McKeegans felt strongly about hiring the most experienced, specialized CPA's and IRS Enrolled Agents, regardless of where they resided. This is one of the reasons the company has been so successful- all accountants are expat tax experts.
More About Greenback Expat Tax Services
Greenback Expat Tax Services specializes in the preparation of US expat taxes for Americans living abroad. Greenback offers straightforward pricing, a simple, hassle-free process and CPAs and IRS Enrolled Agents who have extensive experience in the field of expat tax preparation. For more information about Greenback Expat Tax Services or to have Greenback prepare your tax return, please email Greenback Expat Tax Services at info(at)greenbacktaxservices(dot)com. You can also visit us at http://www.greenbacktaxservices.com.