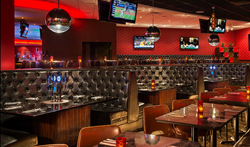 Customers come to a Casino expecting to be "wowed" as well as getting exemplary service. Our products give them both.
Yonkers NY (PRWEB) January 09, 2014
On walking into Pinch at Empire Casino, your eyes might first be drawn to the 100+ taps behind the bar or the State of the Art Growler filling station, but as you continue your journey through this craft beer destination, you'll soon find six booths that have four beers at each table. Luckily, we had called in advance to book one. What we didn't expect was the amount of people who were noticeably jealous that we had taps our tables and they didn't.
After getting to use them all night, our entire table now understands the fascination behind pouring your own beer. It was really simple to use and easy to understand. Here is how it works: You book your table for you and your friends and when you arrive you are shown to the table with glasses to use. The taps do not pour beer until the staff opens them up for you. The taps default as being closed, so even if you open one of the tap handles nothing will pour. Once the staff has opened them, you and your friends can pour up to a two beer limit per person. One of the friendly staff members at Pinch said, "We have guests calling 3-5 weeks in advance to use the taps at the table tables."
The staff was initially skeptical on the concept as no one had ever worked with self-serve beer before. Within days of opening, they were all aboard. Within increased efficiencies come increased profits, and that's something that Pinch is taking full advantage of.
Josh Goodman, one of PourMyBeer's founders, said "we see our system holding value for many industry verticals, Casinos and Restaurants within Casinos being a major one. Customers come to a Casino expecting to be 'wowed' as well as getting exemplary service. Our products give them both."
He went on to say that he and his partner are responsible for selling, installing and supporting almost 80% of all the self-serve beer units in the US market to date. As industry leaders they are committed to rolling out further innovations to their lineup in 2014. "You have to stay current and technology is advancing so quickly there is no time to sit still. Constant improvement is what we demand within our organization as we strive to give our customers the most exciting and profit-driving technology they can get their hands on."
http://www.pourmybeer.com is an Innovative Tap Solutions Company. The company was formed in MD in 2008 and made the first commercial mobile self-serve beer tables in the US. It also sells and distributes built-in beer walls, mobile beer walls, built-in draft tables and mobile draft self-serve tables. All mobile equipment is proudly made in the USA. Contact sales(at)pourmybeer(dot)com or call 215-219-9203/443-691-2337.