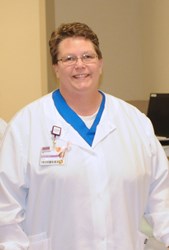 Fifty percent of our first graduating class received a promotion during the program or just after graduation.
Barbourville, KY (PRWEB) December 18, 2013
If Union College's second class of nursing students experiences the same success as their predecessors, the end of the fall semester has marked a new beginning for their nursing careers.
The RN-to-BSN program began in fall of 2010 and has already seen great success with the first class of graduates, according to Lorene Putnam, Ed.D., dean of the Department of Nursing and Health Sciences at Union College.
"Our students are current and future leaders in the region," Putnam said. "Fifty percent of our first graduating class received a promotion during the program or just after graduation."
After completing her requirements in early December for a Bachelor of Science in nursing, Mary Lou Young feels more confident in her job as director of Emergency Services Observation and Infusion with Saint Joseph Hospital in London, Ky.
She attributes this heightened level of self-assurance to small class sizes and personal attention from instructors in this hybrid program that blends online with face-to-face classes.
"Working with Dr. Putnam has given me a stronger passion about nursing," Young said. "Working one-on-one with an instructor was really a wonderful experience."
Personal attention is a common theme among students who describe the program's strongest attributes. Recent graduate Waylon Dunn, BSN, who earned a promotion while still a student in the program, credits his success largely to the classroom experience.
"I was working as a staff nurse when I entered the program. Before I graduated, I was the OR Director, and Lorene (Putnam) gave me a recommendation for that promotion. Once I got that, I got confidence in myself," Dunn said. "I owe my success to the faculty and staff at Union for developing me professionally. With their help I grew exponentially as a professional nurse."
Putnam, an avid proponent of face-to-face education for nurses, believes an online education is inconsistent with what is expected of a nursing program.
"The RN-to-BSN program at Union College is intentionally a hybrid program to provide a blending of online education to meet the needs of busy practicing nurses, and face-to-face classes with personal interaction and mentoring of our students," Putnam said. "The on-campus classes are scheduled no more than one evening a week. The level of intense mentoring with individuals is provided through one to one faculty and student interactions on an ongoing basis."
This model worked well for Young, she said, because, "I didn't feel that the all-online route was a good fit for me. The idea of small classes and one night a week was very appealing."
As one of the newest nursing schools in Kentucky, the Edna Jenkins Mann School of Nursing began accepting RN-to-BSN students in the fall of 2010. The fully accredited school now offers a four-year baccalaureate degree as well. The program is grounded in the liberal arts tradition.
To learn more about the program, visit the college's inquiry site.
Union College is a private, liberal arts institution in southeast Kentucky affiliated with the United Methodist Church.