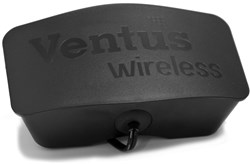 When we looked at the 4G LTE antennas available in the marketplace, nothing met our requirements for performance, design, and dual-module support- so we set out to design our own.
Norwalk, CT (PRWEB) December 19, 2013
Ventus Wireless, the industry leader in primary wireless and wireless backup technology, has added two new 4G LTE wireless antennas to their product line of cellular wireless networking hardware. The Compact Dual Antenna (CDA) supports Ventus single module 4G LTE routers, and the Compact Quad Antenna (CQA) represents the industry's first antenna with support for dual module 4G LTE routers.
"When we looked at the 4G LTE antennas available in the marketplace, nothing met our requirements for performance, design, and dual-module support- so we set out to design our own," said Chris Miller, Director of Electrical Engineering and Product Development for Ventus Wireless. "The Compact Antennas have performed exceedingly well in the field. They pack a lot of power into a small package, and have been very well received by our customers, who appreciate the sleek, low profile design."
Developed specifically to support Ventus Wireless routers, the 4G LTE CDA and CQA provide powerful performance and flexibility with a small footprint. These antennas boost signal and performance with spatial diversity and an omnidirectional radiation pattern, which improve communication link quality, maximize reliability, and offer flexibility in placement. Additionally, the multiband CQA and CDA antennas support seamless and reliable failback to 3G. The antennas are designed with a wide base for stability and a low visual profile to reduce the likelihood of tampering. They offer flexibility of placement with a magnetic base that snaps on to metallic surfaces, or optional adhesive mounting strips for surface, wall, or ceiling mount.
The Ventus 4G LTE V-Series consists of three enterprise class routers (the V4100, V4200 and V4500) offering redundant wireless 4G LTE gateways, up to a terabyte of storage and multiple interface options to support wireless backup and business continuity as well as primary wireless WAN; and two M2M class routers (the V1000 and V2000) offering an array of features and benefits for M2M applications like self-service kiosks, ATMs, digital signs, security and surveillance, vending, and automobiles. The embedded wireless modules permit the routers to seamlessly migrate between 4G LTE and 3G networks to optimize wireless service, while the V4X000 dual embedded models support two active wireless connections, creating unprecedented wireless routing capabilities.
About Ventus
Ventus is the industry leader in IT networking innovations, leveraging technology to produce market-driving solutions for the world's largest companies. Operating from over 20 years of experience delivering secure enterprise class networks, Ventus develops cellular wireless and fixed line IT solutions for an expanding array of business connectivity applications. Ventus IT Solutions offers fully managed networks with an emphasis on security and high availability. The company's solutions include PCI-DSS compliant data transport, integration services, data encryption, cloud services, and integrated network administration and monitoring systems. Ventus' robust IT solutions are powered by the unique products developed by the company's network hardware technologies division.
Ventus Technologies specializes in the design and manufacturing of advanced cellular and fixed line hardware for machine-to-machine and enterprise wireless applications. Ventus' innovative hardware includes modular, multi-interface embedded wireless 4G LTE/3G routers and high performance multi-band 400Hz – 1900Hz cellular antennas designed to meet the needs of bandwidth intensive, high-availability corporate networks as well as distributed M2M applications.
Learn more about Ventus' wireless expertise, innovative engineering, unique hardware, robust networks, fully managed services, security solutions, and industry leadership at our website, http://www.ventusnetworks.com.