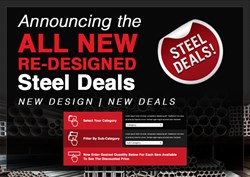 When we decided to re-design Steel Deals we had one goal in mind: Provide our customers with a greater level of value by combining volume discounts and a great user experience.
(PRWEB) December 19, 2013
Service Steel customers and visitors will now enjoy a streamlined and friendly user experience while browsing the latest inventory of discount steel tubing products. The site has been redesigned to allow visitors to start their search by simply choosing a product category from the convenient drop-down menu then further refine their selection by choosing a product sub category. Once these selections have been made, visitors are presented with a fresh and easy to read display of all discount items and quantities of each item available.
In addition to making Steel Deals easy to use, Service Steel has gone to great lengths to provide their customers with greater value by offering volume based discounts. Customers may simply choose a larger amount of quantity needed for any discounted product available and instantly see the discount level increase.
Service Steel's team did not stop at just providing their customers with a fresh and easy to use design. The entire inventory of discounted steel tubing products has been expanded to include items from each of the four Service Steel locations.
Service Steel customers will now find products such as Aluminum Tubing and Pipe, Carbon Pipe, Carbon Mechanical Seamless, Alloy Mechanical Seamless, Stainless Steel Tubing and more.
Browse our latest discount steel tubing products here.
We hope you enjoy visiting the new Steel Deals. If you have any questions, please contact us.