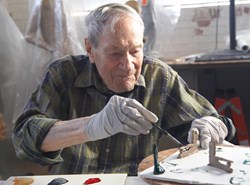 "Tempering an existential sensibility with a transcendent humanism, Frank Lobdell forged a unique pictorial language for our modern age." -Timothy Anglin Burgard, Curator of American Art, Fine Arts Museums of San Francisco
San Francisco, CA (PRWEB) December 20, 2013
FRANK LOBDELL (1921-2013)
Frank Lobdell, a key figure among first-generation Bay Area Abstract Expressionist artists, has died at the age of 92. Lobdell passed away quietly in Palo Alto, California, on the morning of December 14, 2013.
Over the course of nearly seventy years of invention and innovation, Frank Lobdell was counted as an artist who had profound influence in the artistic dialogue of the San Francisco Bay Area, through his artwork and his long teaching career. Widespread critical attention marked every stage of his career, and he was recognized by his peers as an "artist's artist." Lobdell created a powerful body of work in painting, drawing, prints, and sculpture, all of which relied at their core on the drawings that started and ended each day for the artist.
Frank Irving Lobdell was born August 21, 1921, in Kansas City, MO, the son of Ruth Saxton and Earl Lobdell. He grew up in Minnesota, and studied at the St. Paul School of Fine Arts in St. Paul (1939-40). Lobdell served with the U.S. Army (1942-46) in World War II, completing Officer Training in 1943, and arrived in Europe in 1944 shortly before D-Day. In April 1945 Lieutenant Lobdell witnessed the atrocities of war first-hand when his unit came upon a horrific scene in Gardelegen, Germany, where more than 1,000 concentration camp prisoners had been burned alive. This experience shaped his psyche and formed the backdrop for much of his later work. Injured in the war, he spent time in a hospital in England before returning to the U.S. in 1946.
"After serving in World War II, Frank Lobdell confronted the question of whether art retained any relevance in a world forever transformed by the Holocaust, Hiroshima, and the horrors of war," said Timothy Anglin Burgard, The Ednah Root Curator of American Art, Fine Arts Museums of San Francisco. "In the ensuing decades he worked to resurrect the human figure—which had been physically and psychically traumatized during the war—utilizing a vocabulary of archetypal themes and abstract symbols. Tempering an existential sensibility with a transcendent humanism, he forged a unique pictorial language for our modern age."
After the war, Lobdell moved to Sausalito, CA, and attended the California School of Fine Arts in San Francisco (CSFA, now San Francisco Art Institute) on the G.I. Bill (1947-50), where faculty members included Clyfford Still, Mark Rothko, and David Park. At CSFA, Lobdell began a lifelong friendship with fellow painter Richard Diebenkorn.
Lobdell's war experiences made him a confirmed pacifist. At the onset of the Korean War, he left the U.S. for Paris, where he painted at L'Academie de la Grande Chaumiere (1950-51), until returning to the Bay Area in September 1951. In 1957 he was invited to join the faculty at CSFA, where he taught until 1964.
In 1959 Lobdell began to attend weekly figure drawing sessions with Diebenkorn, Park, and Elmer Bischoff, and he became a member of the group after Park's death later that year. The artists continued to meet weekly in each other's studios until 1965, when they accepted new teaching positions. Lobdell was Visiting Artist at Stanford University in 1965, where he was asked to form the graduate art department. He was named Professor of Art at Stanford in 1966 and taught there until retiring in 1991. At Stanford, Lobdell resumed weekly figure drawing sessions with fellow instructors Nathan Oliveira, Keith Boyle, Jim Johnson, and others. In his figure drawings, Lobdell focused on large shapes formed by light and shadow, and these elements later coalesced in the imagery characteristic of his paintings and prints.
Frank Lobdell's reputation and stature were well established nationally and internationally by the mid-1950s. During the 1950s and 1960s he exhibited regularly in San Francisco, New York, and Los Angeles, including several exhibitions at Ferus Gallery. Martha Jackson supported Lobdell's work through her New York gallery, and she and Michel Tapié promoted his work in Europe. Early on, Lobdell's work was included in international exhibitions, at the Petit Palais, Paris; Third Biennial of São Paulo; Osaka International Festival, Japan; and in London, Turin, and Eindhoven; with solo exhibitions in Geneva (1964) and Paris (1965). His works were shown in exhibitions at the Walker Art Center, Minneapolis (1960); The Whitney Museum of American Art (1962); Solomon R. Guggenheim Museum, New York (1964), and numerous other museums and galleries.
Solo museum exhibitions of Frank Lobdell's work included San Francisco's M. H. de Young Memorial Museum (1960, 1992); an early retrospective organized by Walter Hopps for the Pasadena Art Museum (1966); San Francisco Museum of Modern Art (1969, 1983); Stanford University Art Museum (1966, 1988, 1993), and others. In 2003, Lobdell's work was the subject of a comprehensive retrospective, "Frank Lobdell: The Art of Making and Meaning," at the Palace of the Legion of Honor, Fine Arts Museums of San Francisco, organized by curator Timothy Anglin Burgard, and later shown at the Portland Art Museum, OR, and Fresno Art Museum. More recent solo museum exhibitions were at the Marin Museum of Contemporary Art, Novato, CA (2008); Iris & B. Gerald Cantor Center for Visual Arts, Stanford University (2009-10); Christian Petersen Art Museum, Iowa State University, Ames (2010); and San Jose Museum of Art (2012).
In addition to his paintings and drawings, Frank Lobdell made numerous print editions, beginning with lithographs made at CSFA in the 1940s and 1950s. In 1966, Lobdell was a Fellow at the Tamarind Lithography Workshop in Los Angeles, where he completed 33 prints. Over the years he produced intaglio editions with Smith-Andersen Editions in Palo Alto, and David Kelso's made in California press in Oakland. His prints illustrated the artists' books The Music of the Spheres by Michel Tournier (Okeanos Press, Berkeley, 1992), and The Structure of Rime by Robert Duncan (Arion Press, San Francisco, 2008).
Frank Lobdell's works are in museums that include Albright-Knox Art Gallery, Buffalo, NY; Fine Arts Museums of San Francisco; Iris & B. Gerald Cantor Center for Visual Arts, Stanford University; Jack S. Blanton Museum of Art, University of Texas, Austin; Los Angeles County Museum of Art; The Menil Collection, Houston; Museum of Contemporary Art, San Diego; National Academy of Design, New York; The National Gallery of Art, Washington, DC; National Museum of American Art, Smithsonian Institution; The Oakland Museum, CA; Phoenix Art Museum, AZ; Portland Art Museum, OR; San Francisco Museum of Modern Art; San Jose Museum of Art; UC Berkeley Art Museum, and others.
Frank Lobdell received many honors and awards for his work, including the Nealie Sullivan Award, San Francisco Art Association (1960); Pew Foundation Grant (1986); Medal for Distinguished Achievement in Painting (1988) and Academy Purchase Award (1992, 1994) from the American Academy and Institute of Arts and Letters, New York; and in 1998 he was elected to the National Academy of Design.
Frank Lobdell's work is represented by Hackett | Mill, San Francisco. A memorial exhibition will open at Hackett | Mill on May 16, 2014.
Frank Lobdell is survived by his wife, Virginia (Jinx) Rowan Lobdell; sisters June Skjervold and Phyllis Brussel; son Frank Saxton Lobdell of Minneapolis; and son Judson (Heather), and granddaughter Charlotte of Tiburon, CA. He was predeceased by his sister Doris Olson. A memorial service is planned for early next year, TBA.
— # # # —