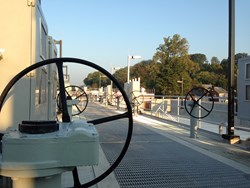 We were confident the DynaSand would satisfy the customer's need to handle exceptionally high solids loading.
Fort Lauderdale, FL (PRWEB) January 08, 2014
Parkson engineers have delivered a new DynaSand® installation specially designed for severe weather events, which can manage solids loading more than four times beyond the industry standard.
A project in Northern Virginia proves the DynaSand continuous backwashing system is capable of reaching new limits, to help operators manage the heavy flows that result from severe rain events such as hurricanes.
"We were confident the DynaSand would satisfy the customer's need to handle exceptionally high solids loading," said Jean Grenier, Parkson regional manager. "But even we were surprised to see that the system could handle solids levels so far above the industry standard."
Parkson began work on the project in 2009, when a municipal treatment plant in Virginia sought help to resolve problems that resulted when its clarifiers became overloaded with solids during heavy rain events. The solution was to divert some of the stream away from the biological treatment and direct them instead to a DynaSand sand filtration system before final treatment.
Parkson engineers were certain the DynaSand could handle maximum solids loadings that were higher than those accepted across the industry, but they could not be sure of what the upper limit should be. That question could only be answered with a pilot that Parkson conducted in Northern Virginia in 2010.
"We surpassed the test criteria and went far beyond the expectations to see how the system would perform," said Omar Gadalla, Parkson product manager. "We worried about throwing so many solids at it, but the system never backed up and it never stopped filtering."
The project was possible only after long discussions between Parkson's team and the operator to explore what kind of equipment was capable of handling the heavy solids loading during severe weather events. Ultimately, Parkson's long history with the sand filtration technology convinced authorities to proceed and to seek an agreement with Parkson for the project.
Another challenge facing the Parkson team was to develop a system that could fit in the small footprint of the plant, which is close to Reagan National airport in the busy Northern Virginia area. The final configuration includes 160 modules, which were installed in place of older equipment.
"Parkson is not the only company with sand filtration technology, but we are an industry leader with decades of experience," said Grenier. "The customer felt we were qualified and that was evident, because we were able to make the filters do more than they had ever done."
The lessons from the municipal treatment plant in Virginia can apply to other treatment operators in the northeastern U.S., especially those who were hit by Hurricane Sandy in October 2012. Already Parkson engineers are planning a series of training sessions with operators to help them manage heavy solids loadings and control their DynaSand equipment to perform successfully.
"Many plants in the northeast suffered during hurricane Sandy," said Gadalla. "Now we can offer better guidance for those high solids loading events and help operators optimize their equipment to fit their needs."