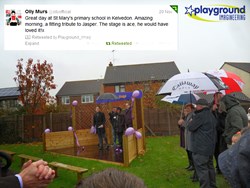 The team were slightly nervous knowing that Olly Murs was going to be standing on and opening one of our own creations!
Bolton, Lancashire (PRWEB) December 19, 2013
Playground Imagineering design playground equipment for schools and are based in Bolton, Lancashire.
The Bolton based firm specialise in outdoor playground equipment for schools and design, build and install an innovative range of play equipment which is all made in the UK.
Playground offers a wide and varied range of playground furniture for schools which includes natural playgrounds available with a free site survey and a bespoke design service.
The Lancashire based playground design company work on a local (and national basis) mainly with nursery and primary schools.
The play equipment specialists also regularly create playground designs for local authorities, pubs, restaurants, garden centres and theme parks.
Founded in 2008 by Robin Harwood and previously known as Harwood Imagineering, Playground has fast become one of the UK's leading suppliers and designers of playground equipment for schools.
Mr. John Hughes (One of the directors of Playground Imagineering) was asked why Playground is different from the competition. He answered "We design, supply, build and install British made play equipment and only use high quality materials. We provide a personalised service and you will always speak to the same person handling your project".
Recently St Mary's Primary School approached Playground Imagineering with a request for an outdoor stage.
The stage was built in memory of Jasper, a pupil at the school, who had sadly passed away.
To commemorate his life, the school PTA decided that a playground stage (with bench seating to the front) would not only be a fitting tribute to Jasper, but also provide wonderful imaginative play opportunities for children in years to come.
Singing superstar Olly Murs recently found time in his busy schedule to carry out the formal opening of the memorial stage at St Mary's Primary School, Kelvedon, Essex.
After the school had seen proposals from various companies, Bolton based playground equipment supplier, Playground Imagineering, were selected to design and build the stage.
John Hughes said "It was great that the school felt our playground stage design best met their needs. The team were slightly nervous knowing that Olly Murs was going to be standing on and opening one of our own creations!"
Olly Murs (a close acquaintance of Jasper's family) who has had continued chart success in the last year with songs including, Dear Darlin', Army of Two and Right Place Right Time, officially opened the stage in November.
Following the opening Olly tweeted on the 20th November "Great day at St. Mary's primary school in Kelvedon. Amazing morning, a fitting tribute to Jasper. The stage is ace, he would have loved it! x"
The installation of the school playground stage at Kelvedon St Mary Primary School is one of many that Playground Imagineering has installed in recent months.
Jasper's stage incorporated some new design features.
These included a ramp and access point at the back of the stage to allow wheelchair access and facilitate more formal musical or theatrical productions.
It also incorporated a sign with the words 'Jasper's Stage' that created a colourful and vivid backdrop above the entrance at the back of the stage.