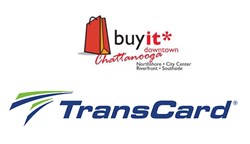 Now, with the robust platform that TransCard and its Red Square Division offers us, and our own proprietary technologies, we can expand our local card programs more aggressively in downtown Chattanooga.
Chattanooga, TN (PRWEB) December 19, 2013
Buy it Local, LLC, creators of the "Buy it*Downtown" community card program, announced today it is teaming up with TransCard, LLC to grow its "buy local" prepaid gift card program more quickly and more conveniently for its customers. Both Chattanooga-based companies in the prepaid card services industry, TransCard and Buy it Local, will work together to create growth opportunities for both companies in the fast changing financial payment and processing industry.
As a result of the announced deal, Buy it Local will leverage TransCard's state of the art transaction platform and RAN technology to introduce "Buy it*2.0", its new platform which will make it easier for merchants to redeem Buy it Local's prepaid "community", employee incentive and gift cards. Once the new transaction network and technology is in place, participating merchant locations will no longer need additional equipment or connections to redeem the new cards.
Merchants who accept MasterCard will simply need to sign up with Buy it Local to be an accepting location. Buy it cards will not work at merchant locations if they are not signed up as a participating provider, even if they accept MasterCard.
Another benefit of the announced partnership, TransCard will now be able to showcase Buy it Local's merchant network and card programs for live demonstrations of its prepaid card platform and processing capabilities to the many national and international customers that come to visit TransCard's headquarters location, which recently relocated to downtown Chattanooga.
Buy it Local, LLC's CEO, Amy Walker said, "Since we launched our initial prepaid community card program 6 years ago we realized there was a gap in the prepaid card marketplace for conscientious consumers and companies who want to support their local economies and businesses when gifting or providing corporate incentives." Walker continues, "For two years, we have been looking nationwide for a new technology partner that could support the changes needed to benefit our cardholders and merchants. We are pleased to be able to now introduce Buy it*2.0 through partnership with TransCard. Now, with the robust platform that TransCard and its Red Square Division offers us, and our own proprietary technologies, we can expand our local card programs more aggressively in downtown Chattanooga, expand card programs into other parts of Chattanooga and push expansion into other markets as we have planned."
Chris Fuller, VP and General Manager of Red Square Division, TransCard's Prepaid Retail Products said, "This is a win- win for both of our companies. We are especially excited to be able to demonstrate our cutting edge financial transaction technology capabilities in our own hometown, while also helping local merchants." Fuller stated, "We are seeing increased growth opportunities in the future for expansion of micro networks, such as Buy it Local's, as we see interest in capturing key niche segments in the retail market space and have strong value added technology assets to make them happen."
The new card technology will be introduced in January (2014), when activation of all existing merchant locations will occur. A new card design will also be introduced at that time. Other merchants interested in signing up to be a new redeeming location can contact Buy it Local, LLC for details after that time. For the current holiday season, a very limited supply of "old" cards are for sale during the 2013 holiday season. A limited number of cards have been made available to the public, so that transitioning systems to the new system can begin.
Cardholders with existing "buy it*downtown" cards that have a remaining card balance will remain active in accordance with original terms when they were purchased. Once Buy it*2.0 is activated, plans are to aggressively grow card sales and its participating merchant network. Buy it Local will also be introducing new card products for keeping dollars local and growing to new markets outside of Chattanooga.
About Buy it Local, LLC:
Buy it Local, LLC launched its initial prepaid card/community card program supporting downtown merchants in December 2007. Cards can be purchased then spent, just like a gift card at numerous participating local merchants. The goal of Buy it * Downtown is to support the downtown economy. Employers, parent-teacher associations, and the general public purchase Buy it* Downtown cards for use as employee incentives, holiday or special occasion gifts. The Buy it * Downtown program hopes to raise awareness about consumer spending habits and the impact that making a choice to keep dollars local can make on small business owners and the health of local economies. Since it's start, Buy it Local has directed more than $3 million in consumer spending and economic impact to participating merchants and businesses in downtown Chattanooga. Buy it Local has more than 130 participating merchants in its card networks. Amy J. Walker is CEO of Buy it Local, LLC and creator of Buy it*Downtown and Buy it*cards. web:http://www.buyitdowntown.com, http://www.buyitcards.com
About TransCard, LLC:
TransCard's network includes over 300 shopping mall locations, 215 financial institutions (FIs) with over 5,000 branch locations, and leading hospitality companies and is the leading provider of prepaid debit card services to FIs nationwide. TransCard also operates the Community Bank Prepaid Program in partnership with the American Bankers Association. As both a processor and a program manager, TransCard's clients enjoy the benefits of working directly with a company that is driving the transactions and managing the data. This speeds up changes, increases success in implementation and allows for maximum flexibility. Senior company officers include: Craig Fuller, CEO, Greg Bloh, President, Chris Fuller, Vice President and General Manager of Red Square Division. web: http://www.transcard.com Twitter: @TransCardLLC