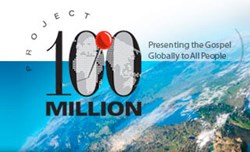 (PRWEB) January 30, 2014
Project 10 Million an Internet evangelical organization set a goal to reach 10 Million people with the news of Jesus Christ by 2018. Project 10 Million exceeded this goal on October 14 2013, five years early. The site as of October 14 has reached 10, 802,046 people.
Project 10 Million reaches people through two websites journeyanswers.com and 121connections.com. 121 Connections is a discipleship site with the goal of connecting responding and inquiring visitors with a local church. Since 121 Connections started the website has had more than 10 million visits form 236 nations and territories around the world. Over 600,000 of the visitors responded to the evangelistic presentation on the site.
121 Connections is run through the help of volunteers called 121 Connectors. The volunteers sign up through an online form at 121connectors.com. After all of the application steps, reference checks, and training have been completed 121 connectors are ready to begin helping visitors responding to the site's evangelistic presentation. 121 Connectors offer an online chat to answer questions and guidance. Many who visit the site enjoy the benefit of talking with someone faceless. 121 Connectors help visitors with tough life situations on a regular basis. Project 10 Million offers the 121 Connectors tools to enable them to better help visitors to the 121 Connections site. Currently there are more than 650 121-connector volunteers from 27 countries.
The website translates the gospel message into 8 different languages. Languages currently provided are Chinese, Vietnamese, Bahasa a language of Indonesia, Filipino English, Spanish, American Sign Language, Farsi and English. Project 10 Million plans to add 7 more languages to the site, these upcoming languages include Arabic, Japanese, Russian, Portuguese, French, German and Korean.
Now that Project 10 Million has exceeded the original goal of reaching 10 Million visitors to the 121 Connections website the organization has a new goal to reach 100 Million visitors. The organization will officially change its name from Project 10 Million to Project 100 Million in January. Contributions can be made at project10million.com.