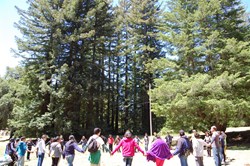 'Students who attend this summer camp will have the unique opportunity to share their experience with their parents and loved ones when by returning to stay at the campground year after year.' -Desiree Gant, Associate Director of the WOLF School
Boulder Creek, Ca (PRWEB) December 19, 2013
WOLF School located in Boulder Creek is an Outdoor Science School that has operated at over eight different sites throughout California for the past 25 years. Reaching approximately 75,000 students chaperones and teachers during that time WOLF School will be starting a new venture into the Summer Camp World in August 2014 and Little Basin Cabins and Campgrounds.
Little Basin, once a retreat center for Hewlett Packard (HP) is now the newest addition to the CA State Park system. Opening its doors in 2011, Little Basin is a family and group camp of Big Basin Redwoods State Park. Located on 535 acres, Nature Fun Summer Camp at Little Basin offers a chance for students to unplug this summer in the Redwood Forest.
Children will have the opportunity to explore State Park land during one of 2 weeks this summer; August 4th- 8th or August 11th – 15th 2014.
From identifying native plants and their uses, to learning how to make fire and helping prepare their own meals, children will make a deeper connection with their public lands, and learn about their role within the web of life. Kids will be actively involved in all aspects of their week long experience while building shelters, looking for native Salamanders, and using GPS on geocaching hikes, kids will rediscover what nature looks like and how to protect it.
"Students who attend this summer camp will have the unique opportunity to share their experience with their parents and loved ones when by returning to stay at the campground year after year," proclaims Desiree Gant the Associate Director of the WOLF School. From the Little Basin Festival (each April) to Family Camp, Little Basin is a place for people to come out to play, relax and explore.
ABOUT WOLF SCHOOL
The Web of Life Field (WOLF) School is an environmental education organization providing outdoor education experiences for students and teachers since 1989 at our Northern California campuses.
ABOUT LITTLE BASIN
Little Basin - previously the private retreat for Hewlett Packard - is a new addition to Big Basin Redwoods State Park through a partnership with the Sempervirens Fund and Peninsula Open Space Trust.