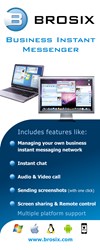 I want people to know just how powerful WordPress has become.
(PRWEB) December 20, 2013
WordPress is the most powerful and most popular content management system in the world. It is used by millions of people all over the globe, including corporations of all sizes as well as those who are in search of a simple to use, yet efficient, blogging platform.
WordCamp conferences have increased in popularity with each passing year, and the most recent event in Sofia, taking place on October 26, was one of the best yet.
Brosix CEO Stefan Chekanov took to the stage during his time at the event, tackling the topic of how to earn money from WordPress.
Chekanov enjoyed his time at the event as a whole, but especially while presenting to those in the audience:
"WordPress is an open-source platform that provides programmers and designers with a great opportunity to earn money. Some people don't understand the ins and outs of this CMS, but we really got into the finer details at this event."
For those who are unfamiliar with WordPress, including how they can use it to earn money, getting started can appear to be a challenge.
"I want people to know just how powerful WordPress has become, because this can go a long way in helping them earn money through this platform," added Chekanov. "I reviewed many of these opportunities, answered questions, and gave the audience an overview of how to move forward on their own."
WordPress powers many of the top websites in the world, including Brosix. For more information, take part in an upcoming WordCamp conference.
To learn more about Brosix, including what the company has to offer, please visit http://www.brosix.com.
About Brosix
Brosix offers all-in-one instant messaging incorporating audio and video calls, sending screenshots, co-browsing, whiteboard and desktop sharing technology to provide an easy-to-use online meeting solution for high-quality online business collaboration. Used by more than 100,000 registered users, Brosix customers consist primarily of small- to medium-sized businesses. At present, more than 10,000 corporate customers in over 70 countries worldwide are using the Brosix private instant messaging networks and benefiting from significantly reduced travel time and travel expenses. Launched in 2006, Brosix is continuing to provide great enterprise instant messaging software to thousands of users around the world.