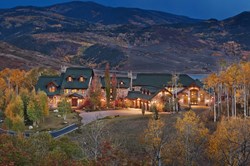 'Grand Estates sells over 90% of all the properties we represent on auction day. Other auction companies claim equal success, but in reality their results don't measure up to that of Grand Estates,' said Stacy Kirk Reich, President of Grand Estates.
Charlotte, North Carolina (PRWEB) December 18, 2013
From the snow banks of Montana to the white sands of Florida, Grand Estates Auction Company sold properties in some spectacular locations in 2013. More importantly, Grand Estates closed a sale in 90% of its auctions, consistent with its five-year average and significantly higher than the real estate auction industry average. Furthermore, many of these closed sales broke previous sales price records. Grand Estate's most significant sales this past year were in Steamboat Springs, Destin, Charlottesville, Whitefish MT, and Landgrove VT.
In February near Steamboat Springs, Colorado, Grand Estates auctioned and sold a 53-acre mountain estate overlooking scenic Stagecoach Lake. This mountain property sold for $5,090,000 producing the third highest resale over the last two and a half years in the area. GEA's aggressive marketing campaign generated 218 inquiries from 24 US States plus Canada, Singapore, Germany, United Arab Emirates, and Saudi Arabia for the property. The bidding on auction day was fast and furious with 9 properly registered bidders, all willing and able to close within thirty days with no contingencies, competing for the chance to acquire this stunning home. The winning bidder had previous knowledge of the property, but knew that it was time to act when the auction date was announced.
In June, Grand Estates auctioned a spectacular waterfront estate in Destin, Florida called Torreta. Close to 170 families took serious interest in the home. Prospective buyers evaluated the house and the rare opportunity carefully. On auction day, six families participated in the auction, cash in hand and ready to close within the required 30 days. After 15 minutes of intense bidding, a phone bidder from Texas bought the property, sight unseen, with a purchase price of $4,400,000. This record- breaking sale marks the return of the real estate market in Destin. The price paid was the highest amount for a bay front property in Destin in the past ten years.
In September, Grand Estates auctioned a historic 275-acre farm in Virginia featuring an 1856 Antebellum Greek Revival Home, a covered riding area, and a 12-stall barn nestled in the foothills of the Blue Ridge Mountains. The Eastern View Farm, a luxury equestrian estate, attracted bidders with its peaceful and panoramic views of the countryside outside historic Charlottesville. GEA's on-site sales team met with over 40 prospective bidders, provided answers to all their questions, and pointed out all the fine and unique features of the equestrian estate. The farm sold at auction for $1,732,500 to a buyer from Alaska, who also made his purchase sight unseen, and it was the highest sale in the local MLS in nearly two years.
Also in June, Grand Estates fielded over 130 inquiries and hosted an active weekend of previews at a mountain home in the gated community of Elkhorn in Whitefish, Montana (the second home Grand Estates has sold in this exclusive, gated neighborhood). A group of bidders gathered on auction day to compete for the chance to own this family retreat. After an exciting afternoon auction, one lucky participant succeeded in acquiring this fully-furnished estate for $1,550,000 and is now enjoying the majestic views, fresh breezes, and unparalleled sporting opportunities of this skiing paradise. GEA obtained the highest sales price in this exclusive community in the past five years. "After seeing Grand Estates Auction Company successfully sell another property for a record-breaking price, I enlisted them to sell my luxury home resulting in the sale I was looking for," said Susan Packer, the Whitefish seller.
On a sunny day in October, GEA sold a luxury Vermont estate located just a short drive from the popular Stratton Mountain Ski Resort. During the concentrated marketing campaign, GEA auction specialists fielded over 280 inquiries from across the United States and internationally – including Bermuda and Canada. There were more than 50 in-person previews of the property during the days leading up to auction day, with some previewers driving from as far away as Ohio. Once registrations were completed with all wires and checks verified, nine registered bidders competed for the right to call this magnificent place home. After a few nail-biting minutes of bidding, one lucky registrant from Connecticut and his family were declared the winners. The home sold for the highest resale price in many years in Landgrove Vermont.
Other successful GEA auctions this year took place in Bozeman, Key West, Naples, and Columbus, Georgia. All of these auctions resulted in pleased sellers and delighted buyers. "Grand Estates sells over 90% of all the properties we represent on auction day. Other auction companies claim equal success, but in reality their results don't measure up to that of Grand Estates" said Stacy Kirk Reich, President of Grand Estates. "We are extremely proud of our 2013 record breaking results and look forward to an even better 2014."
Grand Estates Auction Company is the leader in the niche market of auctioning luxury real estate, specializing in properties valued at $1.5 million and above throughout North America, including Hawaii, and the Caribbean. The company specializes in creating comprehensive global marketing campaigns for luxury properties and selling those properties to the highest bidder at auction. Established in 1999, the company was the first of its kind. The company is based in Charlotte, N.C. with offices in Atlanta, Naples, and Vail. If you or someone you know is interested in buying or selling a remarkable luxury property visit http://www.GrandEstatesAuction.com.