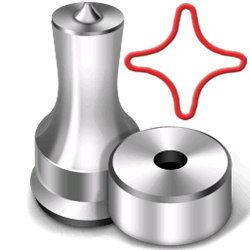 Programmers can eliminate much of the tedious work of importing CAD files and manually defining the special tools geometry and center point in the new GPT Shape creator
Englewood, FL (PRWEB) December 22, 2013
Merry Mechanization, Inc. (MMI) recently added a Special Tools (GPT) Shape Creator to its increasingly popular SMP/IS CAD/CAM sheet metal fabrication and nesting software. This new feature will reduce the time and effort needed to create special tools for punching. The GPT Shape Creator provides engineers and fabricators with an easy solution for creating commonly used GPT's in a few simple steps. A spokesperson from MMI explained that "Using the GPT Shape Creator within SMP/IS, the programmer can design special tools in a matter of seconds, add the GPT to their tool library, and print an image with a description for an organized tool catalog."
Fabrication engineers understand the difficulties associated with programming special tools. With the new GPT Shape Creator, engineers simply choose a shape from the special tool definitions panel, enter symmetry and axis information, and the software automatically scales the tool to specifications. Programmers can define the key angle, round equivalence, and the tool's function, as well as, enable the fabricator to set grid spacing and adjust the tool's angle.
The Special Tools Shape Creator offers over 50 preloaded shapes accommodating cluster tools, 4 way radius tools, banana tools, and more; and supports standard tooling systems for CNC punch presses from manufacturers like Wilson Tool International and Mate Precision Tooling. "Programmers can eliminate much of the tedious work of importing CAD files and manually defining the special tools geometry and center point in the new GPT Shape creator" said an MMI spokesperson.
About Merry Mechanization, Inc.
Merry Mechanization's SMP/IS CAD/CAM and Nesting software is trusted by some of the world's leading sheet metal fabricators and designers and works seamlessly with several applications such as: AutoDesk's AutoCAD, Siemens' Solid Edge, and Dassault Systems' SolidWorks. Using Merry Mechanization's suite of powerful software, manufacturing is more optimized, streamlined, and provides automation tools to integrate with trusted industry software.