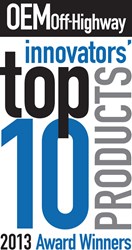 Past winners have prominently displayed their Top 10 awards in their booths at international and national shows.
Fort Atkinson, WI (PRWEB) December 19, 2013
OEM Off-Highway™ magazine, an industry-leading publication dedicated to the entire product development team of heavy-duty on- and off-road equipment manufacturers, has announced its official Top 10 New Products of 2013. The winners are the 10 most-viewed products on its popular online buyer's guide, the Component Directory.
"After five years of Top 10 Awards, the level of excitement and recognition in the industry is invigorating. We've traveled to international shows and found past winners promoting their winning products at their booths with the Top 10 awards prominently displayed. That tells us we're doing something right," says OEM Off-Highway Editor and Associate Publisher Michelle EauClaire-Kopier.
Top 10 New Products of 2013
Shell Lubricants, Shell Spirax S6 ATF A295 Transmission Oil
Subaru Industrial Power Products, EH90 and EH99 Big Block V-Twin Engines
ZF Friedrichshafen AG, MT-C 3000 Series Rigid Axles
Curtis Industries, LLC, BX Series Cab for Kubota Sub-Compact Tractors
Grote Industries, LED Signal Lamps
ABL Lights Group, 500 Series LED Blue Safety Light
Peterson Mfg. Co., 701C 7-Inch Round LED Headlight
Southco, Inc., R4-EM Outdoor Electronic Rotary Latch
Shell Lubricants, Shell Rotella T6 0W-40 Full Synthetic Heavy-Duty Diesel Engine Oil
Dana Holding Corp., Spicer AdvanTEK 40 Tandem Axle
"OEM Off-Highway™ has progressed year over year with how we deliver great industry coverage to our growing audience of over 20,000 qualified subscribers in the product development team segment of equipment manufacturing. The Component Directory continues to be a highly trafficked online resource for engineers and purchasing managers to investigate the latest products and be able to request information directly from the manufacturer," Kopier says.
To date, the Component Directory features over 4,500 products and services from 1,400 companies around the world. "With CONEXPO and IFPE 2014 approaching, 2014 will be a huge year for new product launches making our product database even more robust and trafficked than ever before," says Kopier.
The Top 10 New Products of 2013 are featured in the November/December 2013 print issue of OEM Off-Highway™ magazine, as well as the globally-distributed digital version of the publication. Subscriptions are free to qualified industry members.
About OEM Off-Highway™
Since 1984, OEM Off-Highway™ magazine has delivered the latest news, hottest products and emerging technologies to original equipment manufacturers' (OEMs) product development team members. Editorial content concentrates on the critical issues and new product developments that impact the industry and provide the in-depth coverage and trend analysis that are of primary importance to readers.
About Cygnus Business Media™
As one of America's top business-to-business media companies, Cygnus Business Media™ reaches millions of professionals annually and leads the way in providing targeted content to top decision-makers and organizations. The company's corporate initiatives and organizational architecture are built with one goal: fully engaging audiences in aviation, building & construction and public safety & security, as well as diversified industries such as transportation, printing, accounting, vending, and other markets.