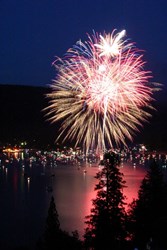 There's something for everyone on New Year's Eve in California's Gateway to Yosemite.
Madera, CA (PRWEB) December 19, 2013
According to the Yosemite Sierra Visitors Bureau, there are many venues throughout Madera County: California's Gateway to Yosemite, that are making preparations to Ring in the New Year.
"There's something for everyone on New Year's Eve," says Rhonda Salisbury, Director of Marketing at Yosemite Sierra Visitors Bureau. "Celebrate John Muir and the Yosemite Grant 150th Anniversary at South Gate Brewing Co., delight in fireworks at Bass Lake, or take part in the New Year's activities at Tenaya Lodge, just for starters."
Bass Lake:
Kids of all ages can celebrate the New Year at Bass Lake.
Welcome the New Year in Style at Bass Lake! Choose between an elegant four-course dinner at Ducey's with live music (6pm - 9pm) or a Family Dinner at Ducey's Bar & Grill with a magic show and $6 pasta buffet for children (4pm-7pm). A New Year's Eve Sunset Dinner starts at 4pm, while at 9 pm a Great-Gatsby-Themed Cocktail Party kicks things into high gear, with a live band, champagne fountain, raffle and photo booth. (Attendees must be 21 or older.)
At midnight, a spectacular Fireworks Show rings in the New Year. Babysitting services are available on site with children's activities (movies, crafts, etc.) and snacks.
For further information, contact http://www.BassLake.com or call 559-642-3121.
Fish Camp
Tenaya Lodge offers California's Mountain New Year's Eve Party!
If the ski slopes of Badger Pass and four-diamond luxury weren't enough of a reason to come play this winter, Tenaya Lodge pulls out all the corks for their New Year's Eve Bash. Their package includes deluxe or cottage room accommodations , tickets for Tenaya's Luxury New Year's Eve Bash for two adults, reception and gourmet buffet dinner, live entertainment , party favors, midnight champagne toast and balloon drop, with a VIP 1 pm late checkout.
Festivities begin at 4:30 pm (to 10 pm) in the Sierra Restaurant with New Year's Eve dinner specials. Embers New Year's Eve dinner specials get underway at 5 pm and continue to 10 pm.
7:00 pm to 1:00 am - New Year's Eve Celebration. Done with 2013? Tenaya Lodge presents a New Year's Eve Celebration to welcome in 2014. Just for kids, there's a wild New Year's Eve Bash beginning at 7 pm.
If you need a dose of relaxation, Ascent Spa at Tenaya Lodge offers a complimentary holiday New Year's celebration makeup makeover, from 12 noon to 5 pm on December 30 and 31.
Oakhurst:
In its elegant style, Oakhurst's very own 5-star Erna's Elderberry House offers a very special new Year's Eve "Great Gatsby Evening," featuring live music by the Sierra Jazz Trio and a lavish dinner with two seatings. The early seating, at 5 p.m. is priced at $130 per person. The "Auld Lang Syne" seating at 9 pm is $195 per person. Reservations are a must. For further information, call Erna's at 559-683-6800 or reserve online at http://www.opentable.com/ernas-elderberry-house-reservations-oakhurst .
Have you wanted to do something fun for New Year's but didn't want to risk being on the road? Evergreen Conference Center Oakhurst wants you to stay and play with them.
The celebration begins with social hour at 6:30 pm, followed by a buffet dinner--featuring a choice of prime rib or lemon herb salmon served with roasted red potatoes, steamed vegetable medley, fresh-baked rolls and pie. Afterwards, enjoy an evening of games and DJ-provided music. Ring in the New Year on New York time at 9:00 pm and then dance and play the night away knowing your comfortable lodge room is steps away. Complete your stay with a delicious Sunday Brunch.
Pricing at $77 for double occupancy and $99 for single occupancy includes New Year's Eve Celebration, Social, Dinner and Festivities, Sunday Brunch. Reservations are required. Contact ECCO at 559-683-8162, or reserve online at http://www.eccoyosemite.org.
Starting at 4 pm on December 31, Crab Cakes Restaurant offers an array of special dishes designed to enhance your New Year's Eve celebration, ranging from King Salmon to an 8 oz. Filet Mignon & Grilled Jumbo Prawn Combo and entrees in between—something to suit everyone's taste. To make reservations or get more information, call them at 559-641-7667 or go to their website at http://www.crabcakes.com .
It's a John Muir New Year's Eve at South Gate Brewing Co. with 1864 Ale featured on tap.
As always, 1864 Ale partial proceeds go to Yosemite National Park. There will be live music, Yosemite artwork, and a Yosemite film in The Warehouse. Join the John Muir Costume contest to commemorate Muir and Yosemite. Participate in the raffle for South Gate and 1864 Ale swag. There's regular service until the ticketed event begins at 8pm. Limited availability. Tickets will include heavy appetizers, a beer ticket, a glass of champagne and noisemakers. For more information, call 559-692-2739.
Yosemite Lakes Park:
Ring in New Year's Eve at the Blue Heron Restaurant in Yosemite Lakes Park. Featuring live music by the O-Tones, December 31st seatings are available from 5 pm to 10 pm. A sumptuous menu awaits you. Call for information or reservations at 559-658-7466 x117.