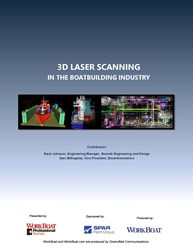 Portland, ME (PRWEB) December 18, 2013
WorkBoat, the leading provider of news for the U.S. workboat industry, has released a new report, 3D Laser Scanning in the Boatbuilding Industry, sponsored by SPAR Point Group.
The free report explains 3D-data capture technology and how it's being applied to vessel construction, repair, and maintenance and operations. Learn about point clouds, 3D modeling, visualization and much more from experts in the field. Contributors to the report are leaders in the industry, including Daryl Johnson of Summit Engineering and Design and Sam Billingsley of SmartGeometrics.
The report can be downloaded from WorkBoat.com or here.
About WorkBoat
WorkBoat is part of the Diversified Business Communications portfolio of commercial marine events, publications and e-media products. The WorkBoat brand has been connecting qualified buyers with leading suppliers for more than 45 years. In print through WorkBoat magazine, online at WorkBoat.com, face-to-face at the International WorkBoat Show and through education with the Professional Series, WorkBoat delivers high quality information to all segments of the marine industry in North America. For more information, visit http://www.workboat.com.
About the Sponsor
SPAR Point Group organizes conferences and provides news and information for professionals involved in 3D imaging technologies, including LiDAR. Content – delivered in-person and online – provides practitioners with tools and information to make better business decisions. SPAR Point Group organizes International LiDAR Mapping Forum, SPAR Europe, European LiDAR Mapping Forum, SPAR International and SPAR Japan and publishes SPARPointGroup.com and SPARView. SPAR Point Group is wholly-owned by Diversified Communications. For more information, visit http://www.SPARPointGroup.com.
About Diversified Communications
Diversified Communications, based in Portland, Maine, provides information and market access through face-to-face events, publications and eMedia. Diversified serves a number of industries including: seafood, food service, natural and organic, healthcare, commercial marine, and business management. Diversified operates divisions in Australia, Hong Kong, India, the UK and Canada. For more information, visit: http://www.divcom.com.