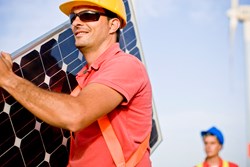 Our goal is to make solar more attractive and affordable in the Breezy Point Community.
Breezy Point, NY (PRWEB) December 19, 2013
Working with the Breezy Point Green Committee, EmPower Solar will add $200 to a Breezy Solar Bank for each resident of Breezy Point, Rockaway Point, and Roxbury, New York who goes solar. These funds will be used to help finance a solar project at one of their community buildings. The building will be chosen at a later date by the Green Committee. The Breezy Solar Bank initiative helps homeowners recognize the advantages of purchasing solar for their homes while simultaneously assisting their community. Each resident interested in learning more about going solar can register for a free site assessment from a trained EmPower representative to determine the necessary system size, design and possible installation requirements.
In addition, homeowners are encouraged to contact an Admirals Bank solar representative to learn more about the financing options available as well as the potential energy savings he or she may incur. By utilizing the Admirals Bank financing option, homeowners will experience all of the advantages of direct ownership and have the greatest opportunity to reap a return on their investment.
Admirals Bank financing options will simplify the purchasing of residential solar panels for the Breezy Point Community. Making the solar process easier incentivizes more homeowners to go solar, and for this initiative, the more homeowners that go solar, the more money EmPower will donate to the Breezy Solar Bank.
"Our goal is to make solar more attractive and affordable in the Breezy Point Community," said Ed Steins, Director of National Sales for Renewable Energy Lending at Admirals Bank "It is our pleasure to contribute to this momentous initiative and to be a financing resource for these communities."
Admirals Bank's non-equity based loan programs allow homeowners to apply for up to $40,000 for a residential solar system. The loan programs can also be used toward the purchase of additional energy efficiency products such as energy efficient windows and doors, water heating, ventilation, insulation, geothermal products, and more. If re-roofing is required prior to the solar panel installation, this cost can also be incorporated within the loan. Leasing programs do not currently offer these additional benefits.
"Breezy Point, Rockaway Point and Roxbury, New York, are ideal markets for a project like this," added Steins." In addition to the 30% federal tax credit, residents can also take advantage of various state and New York City solar incentives, making the purchase of a solar system very appealing."
For more information on the financing programs provided by Admirals Bank, please visit http://www.admiralsbank.com or contact a Relationship Manager at 800-615-8472.
For more information about the Breezy Solar Bank initiative or the Breezy Point Green Committee, please visit their Facebook page at http://www.facebook.com/BreezyPointGreenCommittee.
For additional information about EmPower Solar or to register for a free site assessment, please visit http://www.empower-solar.com or call 516-837-3459.
About Admirals Bank
Admirals Bank is a federally-chartered financial institution headquartered in Boston, MA with a Regional Banking Center in Providence, RI, and a Renewable Energy Lending Business Development Center in San Francisco, CA. Since 2012, Admirals Bank has focused its home improvement lending efforts in the residential solar and renewable energy industry, opening Admirals Alternatives, the Renewable Energy Lending division of Admirals Bank in April 2013. Admirals Bank also remains a leading national provider of the Title I Home Improvement Loan for a variety of other home improvements. Admirals also offers customers additional borrowing solutions such as Residential Mortgages. Additionally, Admirals Bank is an active acquirer of commercial real estate loans in the secondary market. Admirals introduced Bespoke Banking to the financial industry, which is individually tailored, highly customized, relationship banking, and also provides customers with classic banking options such as checking, savings and money market accounts, which can be conveniently opened and maintained online or via a mobile device. Admirals Bank is an Equal Housing Lender and Member FDIC.
About EmPower Solar
EmPower Solar is a leading solar engineering and installation company serving residential and commercial markets in New York. Since 2003, EmPower has installed over 600 residential, commercial and non-profit solar power systems in the Tri-State Area. EmPower has consulted on many solar and alternative fuel infrastructure projects throughout the country, including solar powered hydrogen fueling systems and electric vehicle charging infrastructure.
About Breezy Point Green Committee
The Breezy Point Green Committee was founded to foster the sustainable future of the Breezy Point Community, including Roxbury, Rockaway Point and Breezy Point, New York. Their mission is to rebuild the areas affected by Hurricane Sandy and promote a green environment. The Breezy Point Green Committee strongly supports and encourages residential homes and community buildings to go solar.
_______________________________________________________________________________
Admirals Bank does not guarantee that a homeowner's monthly loan payment will be less than the savings on his or her monthly energy bill. All loans are subject to credit approval. A prequalification is not an approval. Approvals require the submission of a complete loan application. Please contact your tax advisor, local electricity provider or appropriate government representative to check for any federal or local tax credits, upfront government or utility incentives, solar renewable energy credits or other production based incentives in your state or local area.