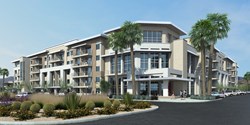 Working with this group has been a breath of fresh air.
Scottsdale, Arizona (PRWEB) December 19, 2013
The P. B. Bell companies has announced that they have closed on land to build Cascàd, a luxury community in Scottsdale.
Cascàd is a uniquely designed apartment community consisting of 187 units in four- and five-story elevator served building configurations. The contemporary design includes resort-like pool with spa, residents lounge, state-of-the-art exercise facility, and other highly marketable & preferred amenities.
Cascàd will be developed on approximately 4.5 acres located south of the southeastern corner of Scottsdale Road and Mayo Boulevard, Scottsdale, Arizona. Land was purchased from the BCB Group LLC, an entity controlled by the renown Berge family in conjunction with Diversified Real Estate Co. "Working with this group has been a breath of fresh air," Mike Trueman Vice President of P. B. Bell Companies, Development.
Cascàd is strategically located in north Scottsdale, just south of the Loop 101 Freeway, near the heart of abundant retail, dining, and entertainment options including the Kierland Commons open air mall and the Scottsdale Quarter mixed-use shopping district. It is within close proximity to the Scottsdale Airpark, which is the 2nd largest employment center in the Greater Phoenix Metropolitan Area.
This luxury community is a mixed-use development consisting of retail, residential, and office uses. The retail component may contain two destination restaurants, retail, and hospitality. The office component may provide 236,000 SF of office space in an eight-story Class A+ building suitable for a single corporate user or multiple tenants. The overall theme of the project will set the standard for the next generation of mixed-use development, leveraging the appeal of destination-driven urban environments. Residents and office tenants will also enjoy unobstructed views of the scenic McDowell Mountains to the northeast of the project, as well as city views south and west.
PB Bell has partnered with a private equity partner, to develop the apartment component. Cascàd is set to open in the second quarter of 2015. For more information, please visit http://www.pbbell.com.
About The P.B. Bell Companies
The P.B. Bell Companies is an award-winning company continuously expanding their apartment development, building, and management portfolio. Established in 1976 The P.B. Bell Companies has developed apartment units in the Arizona market where people enjoy communities that deliver a lifestyle, unique amenities as well as beautifully assembled apartment homes. To learn more, visit http://www.PBBell.com or call 480-951-2222.