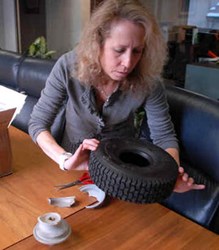 When companies take advantage of a loophole in the law and rush products to market and then recall them, they have to be responsible for damages to consumers and patients.
Philadelphia, PA (PRWEB) December 18, 2013
The Health Care Report says the holidays provide a good backdrop for families to talk about health concerns. If a loved one's hip implant is causing more pain than relief, or someone is injured by a faulty "snow thrower," attorney Jamie Sheller says it may be time to discuss what to do to protect family health and safety.
Lawsuits alleging injury from recalled metal on metal hip implants resulted in one of the largest medical device settlements in history according to a November 2013 article in the New York Times. The $2.5 billion settlement includes compensation for an estimated 8,000 patients with the DePuy ASR hip replacement device.(1) There are other manufacturers' hip devices being litigated; see http://www.HipRecallHelp.com for the specific models.
Representing hip implant patients in the settlement, attorney Jamie Sheller of the national law firm Sheller, P.C. said in an interview with CBS 3 that metal on metal hip implants are "devices that are supposed to make quality of life better. But because of the design, the metal broke down and created pain, dangerous levels of metal in the blood and more. It's been a horrendous situation for many who've gotten these devices."
"Hip replacements are supposed to last 10-15 years" says Sheller in a panel discussion on hip implants and defective medical devices on The American Law Journal. "But some have to be removed in a matter of months."
Faye Madgitz is one of Sheller's several hundred clients who will benefit from the settlement. Profiled in two CBS 3 reports along with Sheller, Madgitz said the implant "was totally debilitating. I could barely walk, it was popping, grinding."
"It's really tragic," said Sheller to CBS 3 reporter Stephanie Stahl, "people are permanently disabled now, they will never be able to get the functionality or quality of life that they had hoped." But, Sheller continues, "patients do have the opportunity to find relief by exploring their legal options for compensation."
In an interview with pharmaceutical and medical device industry insider website Pharmalot, Sheller says "when companies take advantage of a loophole in the law (to obtain FDA approval) and rush products to market and then recall them, they have to be responsible for damages done to patients."
MTD Snow Throwers, also referred to as snowblowers, have been under scrutiny for several years. But homeowners who have just now used the equipment in the recent snowstorms may not know about the product's recall and the potential for injury. Nearly 130,000 of the products were recalled in 2006 by the U.S. Consumer Safety Product Commission.
One of Sheller's clients, twelve year-old Christopher Ladd, suffered hand and eye injuries from plastic shards thrown from an explosion of the the snow thrower's plastic tire rims. According to a story in the Philadelphia Inquirer, Christopher's father Scott Ladd said "my son could have lost an eye- it could have been really, really more tragic than what it was." The story discusses settlements Sheller has achieved on behalf of fifty victims, with more pending.
MTD Snow Throwers are also sold under the brand names Craftsman, Yard Machines and Troy-Bilt. See the MTD Snow Thrower information page on the Sheller, P.C. website for more information.
About Jamie Sheller, Esq.
Jamie Sheller, Esq. of the national law firm Sheller, P.C. is a patient and consumer safety advocate in practice since 1989. Currently focusing on representing victims of recalled hip implants and MTD Snow Throwers, Sheller also represents individuals harmed by consumer products in complex product liability, multi-district, class action litigation as well as general personal injury cases.
About Sheller, P.C.
Philadelphia based Sheller, P.C. represents plaintiffs injured by drugs and medical devices as well as whistleblowers reporting medical industry and wrongdoing and fraud on the U.S. government. The firm is currently representing patients injured by metal on metal hip implants and litigating mass tort cases for hundreds of boys and young men harmed by the Johnson & Johnson antipsychotic Risperdal who claim they developed female-like breasts.(2,3 )
In practice since 1977, Sheller, P.C. has challenged some of the largest corporations in the country including tobacco, auto, and drug and medical device manufacturers. The firm has been counsel in more than $6 billion in whistleblower recoveries for the U.S. government, among the largest in U.S. history.(4,5,6,7)
Cases cited
(1) In re: DePuy Orthopaedics, Inc., ASR™ Hip Implant Products Liability LItigation, MDL Docket No. 1:10-md-2197 (U.S. District Court, Northern District of Ohio, Western Division)
(2) In re Risperdal Litigation, March Term 2010, No. 296 (Philadelphia County Court of Common Pleas)
(3) In re Risperdal/Seroquel/Zyprexa Litigation, Case No. 274 (Superior Court, Middlesex County, N.J.)
(4) United States, ex. rel. J.W., et al. v. AstraZeneca Corp., No. 04-0379
(5) United States, ex. rel. R.R., et al. v. Pfizer, Inc., No. 07-11728
(6) United States, ex. rel. R.R,, et al. v. Eli Lilly and Company, No. 03-943
(7) United States ex. rel. Victoria Starr, et al. v. Janssen Pharmaceutica Prods., L.P., No. 04-1529