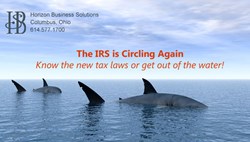 (PRWEB) December 20, 2013
With tax season right around the corner, Horizon Business Solutions of Columbus, Ohio is notifying their clients and the public about chief tax law changes that will affect small to mid-sizes businesses. Tax laws continue to increase in complexity due to the American Tax Relief Act of 2012 and the Affordable Care Act.
"As we enter the 2014 tax filing season, there are several key laws that will impact the tax returns for many, both personal and business tax payers," says Kim Bolin of Horizon Business Solutions. "Many of these tax law changes are specific for certain income levels, but there is one that will apply to all taxpayers and that is changes in the deductible medical expense. The new laws allow only medical expenses that exceed 10 percent of the adjusted gross income to be deducted," Bolin adds.
Others tax law modifications include:
Commercial Activity Tax (CAT) – The CAT taxes are imposed on the first $1 million of taxable gross receipts and gets higher as income increases. Currently at $150.00 for the first million, it will increase to $800 for the first million and subsequently increase as the income level get higher.
Child Tax Credit – a maximum of $1000.00 per child under the age of 17 is now permanent. Depending on your income and marital status, the amount of credit taken will be limited. Refundable Child Tax Credit will expire in 2017.
Energy Tax Credits – will expire at the end of 2013. If you are looking to improve your home or business with energy efficient appliances in insulated windows, install them before the end of the year.
Education Tax Credits - Education tax credits help offset the costs of education. The American Opportunity available to a broad range of taxpayers and are education credits you can subtract in full from the federal income tax, not just deduct from taxable income. These credits will be allowed through 2017. The student loan interest deduction is now permanent.
Earned Income Tax Credit - a refundable tax credit for low to moderate income workers will tentatively expire in 2017.
Estate Tax Exemption - for the year 2013, it is set at $5,250,000 with a top tax rate of 40 percent. If an estate is valued at less than this amount, and death occurs before Dec. 31, no estate tax return needs to be filed and there will be no estate tax levied.
Horizon Business Solutions will continue to provide clarity on tax law changes and the Affordable Care Act as new information becomes available. Kim Bolin works for Horizon Business Solutions (HBS), a unique full service accounting firm providing small to medium size businesses with revolutionary ways to handle bookkeeping and accounting. For more information on services provided by HBS, call Kim Bolin at (614) 577- 1700 or email him at bkimbolin(at)horizonbiz(dot)com.