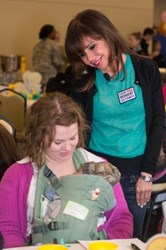 Fort Campbell, KY (PRWEB) December 18, 2013
Tuesday nearly 200 women shared in a special moment unique to motherhood: a baby shower. Hosted by the USO and the What to Expect Foundation, "Special Delivery" connects military moms-to-be with others in their area, providing them an opportunity to develop a support system. The expectant mothers of Fort Campbell were treated to gifts, games, food and the opportunity to personally meet author and creator of the "What to Expect" series, Heidi Murkoff.
The transient lifestyle of military families creates challenges for expectant mothers. They often face pregnancy and delivery away from their support network, and many give birth while their spouse is deployed. For many in attendance, this will be their only shower.
"There are many ways to be a good parent." said Heidi Murkoff, author of the "What to Expect" series. "But at the end of the day there are only two absolutes: love your child and try to create a healthy and safe environment for them."
"This is nice because we don't have that family support here," said Raeanna Patterson, military spouse and first time expectant mother. "Just meeting other pregnant women and being able to talk to them about all the things that we are going through. It's nice to have that support because your family is so far away."
Military spouses made up the majority of the moms-to-be at Tuesday's event with several dozen active duty female troops rounding out the nearly 200 in attendance. Many of the women were first time mothers, but there were several who were expecting their second and third child, with one military spouse expecting her fifth.
The question and answer session with Murkoff was the highlight of the event as expecting moms asked any and every question associated with pregnancy, childbirth and becoming a new mom. Breast feeding and "breast economics" as Murkoff refers to it, was a popular topic among the mothers in attendance as well as concerns for creating a bond between dad and baby when dad is deployed at the time of delivery.
Founded in 1997, the What to Expect Foundation has one mission: To educate and empower moms in need so they can expect healthier pregnancies, safer deliveries and healthier, happier babies. Heidi and her husband Erik, co-founders of the What to Expect Foundation, partner with the USO to bring the Special Delivery program to military moms-to-be worldwide. The program launched in August with a series of events on the island of Okinawa in Japan and in 2014 ten events will reach military communities throughout the U.S., the Pacific and Europe.
Click here for images from the event. For more information about the What to Expect Foundation or to connect with Heidi online visit http://www.whattoexpect.com and for more information about USO programs and services to support military families worldwide visit http://www.uso.org.
###
About the USO
The USO lifts the spirits of America's troops and their families millions of times each year at hundreds of places worldwide. We provide a touch of home through centers at airports and military bases in the U.S. and abroad, top quality entertainment and innovative programs and services. We also provide critical support to those who need us most, including forward-deployed troops, military families, wounded warriors and families of the fallen. The USO is a private, non-profit organization, not a government agency. Our programs and services are made possible by the American people, support of our corporate partners and the dedication of our volunteers and staff.
In addition to individual donors and corporate sponsors, the USO is supported by President's Circle Partners: American Airlines, AT&T, Clear Channel, The Coca-Cola Company, Grand Canyon University, jcpenney, Jeep, Kangaroo Express, Kroger, Lowe's, Northrop Grumman Corporation, Procter & Gamble and TriWest Healthcare Alliance and Worldwide Strategic Partners: BAE Systems, The Boeing Company, Lockheed Martin, Microsoft Corporation and TKS Telepost Kabel-Service Kaiserslautern GmbH & Co. KG. We are also supported through the United Way and Combined Federal Campaign (CFC-11381). To join us in this patriotic mission, and to learn more about the USO, please visit uso.org.
About What to Expect
The What To Expect books, that all began with the iconic What To Expect When You're Expecting have sold more than 45 million copies and are published in over 30 languages.
Established in 1997, the What To Expect Foundation is dedicated to helping underserved families and empowering moms in need so that they can expect healthier pregnancies, safer deliveries and healthier, happier babies.
In 2005 the What To Expect brand expanded online with Whattoexpect.com - the interactive companion to the What To Expect books and home to a vibrant, vast yet close-knit community of over 4.5 million parents.