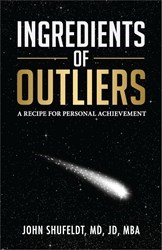 My goal was to write a book that would will act as a surrogate mentor for people who want to alter their own stars. - John Shufeldt
Phoenix, AZ (PRWEB) December 20, 2013
Ingredients of Outliers author John Shufeldt will be interviewed on BBS talk show radio station about his new book, Ingredients Of Outliers, at 9:00 a.m. Pacific Time on December 19, 2013.
Go here to listen to John Shufeldt online and get more information on the live international radio show and podcast.
International mental practitioner, counselor, speaker, teacher, award-winning author, and radio talk show host Donna Seebo will host the interview.
Written as an inspirational guide to help individuals achieve business or personal success, John Shufeldt's new book, Ingredients of Outliers, is a compilation of thoughts, tips and techniques designed to guide, and inspire and 'move' an individual towards their goal.
According to Shufeldt, the book, which has already received a number of Five Star Reviews on Amazon, is about personal development.
"My goal was to write a book that would will act as a surrogate mentor for people who want to alter their own stars, expand their opportunities and see the world and even themselves through a different set of lenses," says Shufeldt.
"Ingredients of Outliers is written for individuals who want to learn from those who are at the top of their game in their respected fields of endeavor."
Shufeldt will be speaking on BBS radio Program as well as several other radio shows throughout the month of December. According to Shufeldt he is doing this in order to expand the reach of Ingredients of Outliers to a large variety of potential outliers, and inspire them to break the confines of the average and find their personal niche.
"I would like to see people lead passion purposed lives and step out of their comfort zones," says Shufeldt. "I want to see people find the Outliers inside themselves."
EVENT INFORMATION:
Who: John Shufeldt
What: Radio Interview.
Where: Online HERE on station one
When: 9:00 a.m. Pacific Standard Time.
About BBS Radio:
BBS Radio is a live internet talk radio network. They feature live and interactive premier internet talk radio stations broadcast live talk radio shows that are often remotely engineered, via live studio personnel, from California studios. BBS professionally engineers live talk radio shows, remotely, for professional quality live and interactive podcasting. As well as 24/7 broadcasting.
About John Shufeldt:
Shufeldt received his BA from Drake University in 1982 and his MD from the University of Health Sciences / The Chicago Medical School in 1986. He completed his Emergency Medicine Residency at Christ Hospital and Medical Center in 1989 where he spent his final year as Chief Resident.
He received his MBA in 1995, and his Juris Doctorate in 2005, both from Arizona State University. He is admitted to the State Bar in Arizona, the Federal District Court and Supreme Court of the United States.
Shufeldt is an adjunct professor at the Sandra Day O'Connor College of Law where he teaches a clinic on Health Law Entrepreneurism. And he also serves on the Drake University Board of Trustees and the Sandra Day O'Conner College of Law Alumni Board.
If that wasn't enough to fill his schedule, Shufeldt is also a pilot (both plane and helicopter) a successful business entrepreneur, and if pressed, he will reluctantly admit to being a 'budding' chef.