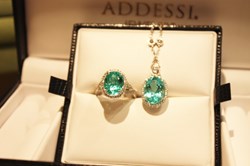 Ridgefield, Ct (PRWEB) December 19, 2013
The Paraiba Tourmaline Tops Santa's List
"Are diamonds really a girl's best friend? Not anymore…the Paraiba tourmaline is the newest passion", says Wayne Addessi, owner of Addessi Jewelers, Main Street, Ridgefield, Ct. where a collection pieces form these beautiful stones are now available. Mined in the Paraiba region of Brazil, these color charged stones positively glow. When this gem was first discovered and introduced to the market it sold for $250 a carat, within a scant few months the price skyrocketed to $2,500 per carat. Today for top quality stones, larger than 10 carats, are valued beyond $100,00 per carat.
The discovery of these rare finds is legendary. Ridiculed by neighbors and villagers, Hector Dimas Barbosa, discover of the Paraiba Tourmaline, dug and tunneled for almost a decade in a hill behind the village of San Jose de Batalha in Paraiba, Brazil. In 1987, he unearthed the first gem, one of the rarest in the world, a tourmaline uniquely colored by copper, creating a vivid blue-green hue with a mesmerizing neon glow.
"Ultramarine, "neon" and "electric' are words used to describe these exceptional tourmalines. Time and time again, the question came up "Where is this stone from"? The answer, "Paraiba…thus they were known as the Pariba tourmaline . Now these rare and exquisite stones are right here in Ridgefield at Addessi Jewelers. Says owner, Wayne Addessi, "We have a beautiful collection of Paraiba Tourmaline pieces that would make Santa proud." Addessi Jewelers is located at 187 Main Street, Ridgefield, Ct. Tel. 203.438.6549.
http://www.addessijewelers.com/
http://www.facebook.com/addessijewelers