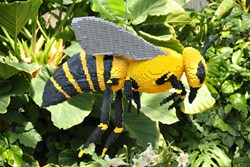 The LEGO exhibit by New York artist Sean Kenney will create quite a buzz in Naples and beyond!
(PRWEB) December 30, 2013
The LET'S GO Garden Package of Lemon Tree Inn celebrates NATURE CONNECTS, a special exhibit at Naples Botanical Garden by artist Sean Keaney who uses LEGO® pieces to create massive sculptures. The package includes three nights at the hotel, two tickets to Naples Botanical Garden, and one beginner's packet of Lego's (a $15 value). The LET'S GO Garden Package is $399 February 14 through April 15, and $299 from April 16 to May 11, 2014. Rates are based on two people (double occupancy) for the three-night stay in a standard room. Additional nights, tickets and room upgrades are available at an additional charge. Taxes are additional. To book a stay, call Lemon Tree Inn at (239) 262-1414 or visit http://www.LemonTreeInn.com.
"The LEGO exhibit by New York artist Sean Kenney will create quite a buzz in Naples and beyond," says Sid Kalmans, owner of Lemon Tree Inn, a charming tropical hotel in the heart of Old Naples, Florida. "His sculptures, made from LEGO bricks, are incredible and inspiring. The exhibit is a great way to promote the Botanical Gardens and blend art with nature."
NATURE CONNECTS, a record-breaking, award-winning exhibit, will be at the Naples Botanical Gardens February 14 through May 11, 2014. The exhibit will showcase 27 larger-than-life sculptures built with nearly half a million LEGO pieces by artist Sean Kenney (http://www.seankenney.com). Ranging in size from 6 inches to nearly 8 feet, the sculptures depict plants and animals including a butterfly, dragonfly, hummingbird, gardener and, the largest sculpture, a bison made from 45,143 bricks. For more information on the Naples Botanical Gardens, visit http://www.naplesgarden.org.
The Lemon Tree Inn is a locally owned boutique hotel with a tropical spirit. Guest rooms open up to a lush, courtyard garden speckled with colorful Adirondack chairs and tropical foliage. Caribbean inspired décor from four-post mahogany and wicker sleigh beds to the carefully chosen artwork create a unique island theme in each guest room. Continental breakfast is served poolside and cold lemonade is available all day. Guests may rent bicycles for a quick ride to the beach, or explore fabulous shopping, galleries and restaurants located within walking distance just a block from the Inn. For more information or to book a reservation, call 888-800-LEMO or visit http://www.LemonTreeInn.com.