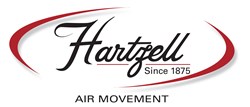 President of Hartzell Air Movement, Sean Steimle explains, "This will make it easier for international companies to work with us and we can now be more competitive on export order pricing."
Piqua, Ohio (PRWEB) December 20, 2013
Hartzell Air Movement is pleased to announce that their main manufacturing plant in Piqua, Ohio is now certified to produce and export wood packaging material under the guidelines of ISPM-15. A company with an International Standards for Phytosanitary Measures No. 15 (ISPM-15) certification is important because it ensures that wood used in their packaging and pallets has been properly treated and fumigated in order to prevent the spread of insects and diseases that could harm other countries' ecosystems.
President of Hartzell Air Movement, Sean Steimle explains, "This will make it easier for international companies to work with us and we can now be more competitive on export order pricing." Hartzell can also easily ship the ISPM-15 wood packaging material to their Portland, Indiana plant to use for exporting purposes, allowing them to better serve customers from multiple plant locations.
This certification will improve Hartzell Air Movement's on-time delivery because it allows for greater speed and flexibility by eliminating third parties and the need to ship to satellite locations for packing and crating services. This certification also helps reduce the risk of export delays because Hartzell Air Movement now has a unique ISPM stamp, allowing products to clear customs quicker.
Hartzell Air Movement is a leading manufacturer of industrial air moving solutions to a variety of markets throughout the world. The company manufactures in Ohio, Indiana, and Singapore. Hartzell has been in business since 1875.
If you would like more information on Hartzell Air Movement products, please visit http://www.hartzellairmovement.com or contact your local field sales representative.