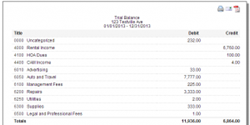 It is all about making the day to day chores of property managers easier
Grants Pass, OR (PRWEB) December 20, 2013
Rentec Direct, maker of leading property management software, announces new and improved tools. Rentec added a new collected vendor feature just a few short weeks ago and quickly came to realize that this process would grow a list of 1099 reports and 1099-efile list of vendors dramatically. Rentec has rolled out two new options to help control this issue. The first option allows exclusion of payees from 1099 reports and the second option allows removal of all "collected" payees from 1099 based reports. Rentec has also added in a Trial Balance Report which are often used for reconciling owner of property accounts to ensure debits and credits equal zero at the end of a period. This report is very useful for complying with state real-estate trust accounting rules.
"It is all about making the day to day chores of property managers easier," said Nathan Miller, President of Rentec Direct. "This is just one of many features we've rolled out recently which improve a property manager's operation and saves them time."
To learn more about Rentec Direct or to obtain a 30-day full featured free trial of the software, visit http://www.rentecdirect.com/
About Rentec Direct
Rentec Direct provides cloud based rental software solutions for property managers and landlords. Other popular solutions offered by Rentec Direct include tenant ACH payment processing and tenant screening, and online syndication of vacancies to more than 20 popular websites.