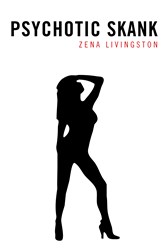 This story follows Vicki down the road of moral deprivation and decadence.
New York, NY (PRWEB) December 19, 2013
Using one's sexuality to gain financial and job security seems inappropriate and mythical, but is it? Author Zena Livingston uses this question and forms a new sexually deviant fantasy thrill ride about a woman who has no issues with using her body to get what she wants.
"Psychotic Skank" follows the misadventures of Vicki as her greed, temerity and sexual addiction controls her pursuit of men in her quest for social position, financial security and great sex.
"This story follows Vicki down the road of moral deprivation and decadence," Livingston said. "The novel depicts the dangers of intra-office relationships and pension fraud."
Another side of Vicki is seen when she offers her former co-worker, Donna, a place for her and her children to live after she receives the devastating news of breast cancer. This act of compassion is out of character for Vicki and exposes her sensitive side.
"I'm a people observer, I have met and observed many Vicki's," Livingston said.
For more information, visit http://zenalivingston.com.
"Psychotic Skank"
By: Zena Livingston
ISBN: 978-1-4918-1275-4
Retail price: $18.18
Available in hardcover, e-book and paperback
About the author
Zena Livingston resides on Long Island, New York with her husband. She received her Bachelor's degree in English literature from City College of New York. Livingston was an English teacher in the secondary level in the Bronx and in Freeport, New York before devoting herself to working with her husband and now their son at their podiatric medical practice.
###
**FOR IMMEDIATE RELEASE**