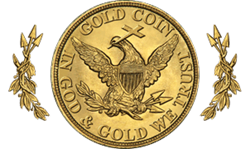 The company's clients tend to be reasonable, logical people who are more focused on finding the right type of gold coin rather than needlessly finding problems with good things.
Dallas-Fort Worth, TX (PRWEB) December 18, 2013
U.S. gold coin dealer GoldCoin.net's holiday promotion is underway after company spokesman Keith Kelly revealed a "12 Gold Coins of Christmas" sales campaign that will last through December 26. Kelly said from his office in the Dallas-Fort Worth area Wednesday that the company's goal was to remind potential gold buyers that there are many types of gold coins minted as investments, collectibles and even gifts. There has been some polarization over GoldCoin.net's use of the word "Christmas" but Kelly says the company's clients tend to be "reasonable, logical people" who are more focused on "finding the right type of gold coin rather than finding problems with good things."
"A small business owner in Texas isn't going to buy the same type of gold coins as a banker from New York or a collector from California, so it's important that we keep a variety of coinage in stock at all times," Kelly said. "We are already a large-volume discount gold coin dealer but the 12 coins we chose for this promotion have had the premium dropped by 25%. There 12 coins we chose are a mixed bag of investment-grade and collectible coins."
The gold bullion coins GoldCoin.net chose for special pricing through December 26th, 2013 at 5pm CST include the 1-ounce American Eagle gold bullion coin, the 1-ounce Canadian Maple Leaf gold coin (99.99% pure gold) and the 1-ounce South African Krugerrand gold coin. Certified coins include the $2.50, $5 and $10 versions of both the Lady Liberty and Indian Head gold coins, as well as MS62 versions of all $20 Double Eagle gold coins. The 12th discounted gold coin, the 1-ounce American Eagle Proof complete with U.S. Mint velvet box and certificate of authenticity, will be selling at what Kelly calls "a virtually impossible to beat" price of $300 per ounce over spot and there are only 100 of those coins available.
Gold Coin (GoldCoin.net) has over two decades of experience advising household investors on smart physical gold and silver investments and gold coin IRA and 401k plans. They buy and sell all types of precious metals and offer free home delivery. For more information or a free "Gold Coin Starter Kit," visit http://www.goldcoin.net or call 1-800-425-5672 today.