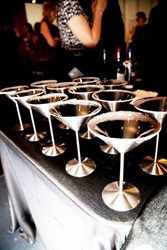 Exceptional food must not only be meticulously prepared, but also artfully presented.
Toronto Ontario (PRWEB) December 24, 2013
Delivering a flawless party for clients is always important to Rodney Kaufman, CEO and Executive Chef of Impeccable Taste Catering in Toronto. And capping off the holiday season with an unforgettable catered event to ring in the new year is what Kaufman does so well. "New Year's Eve is at the tail-end of a long holiday season, and everyone wants to kick up their heels and have fun. We take pride in providing our clients and their guests with a catered event that allows them to do just that," says Kaufman.
The sparkling topper on any New Year's Eve party is a signature cocktail that is unique to any event. With the wonderful multitude of local ingredients available, Impeccable Taste Catering Service can create a cocktail that will please everyone on the guest list. Here, Kaufman shows us what is hot for New Year's Eve:
The Classic - Champagne-based cocktails will always be a staple of any catered New Year's party. Offering the beverage on its own is a popular option that many guests love, but it can also be spiced up a bit with some bitters, sugar and a twist of lime to create a cocktail with some kick.
Give it Ginger - Ginger is the perfect flavour for chilly winter nights and it can easily be added to a creative cocktail. Ginger ale mixed with sparkling white wine (or mineral water, for non-alcoholic options) and topped with dark berries makes for a stunning drink that is both easy on the eyes and the taste buds.
Go Canadian - Ice wine is an enticing and decidedly Canadian option that will effortlessly fit in to any catering menu. With varieties coming from British Columbia, Ontario, Quebec and Nova Scotia, there is sure to be a classic ice wine that will add some Canadiana to your New Year's event.
Coveting Cranberries - Hosts cannot go wrong with a cocktail that incorporates this winter wonder. Whether mixing pure cranberry juice with white wine or using frozen cranberries to top off other cocktails, holiday events will be chicer because of it. Cranberry-based drinks also make excellent non-alcoholic options for a catered menu.
Impeccable Taste Catering consistently delivers quality food that looks as good as it tastes. Impeccable Taste works with private individuals, companies and corporations in Toronto and the wider Greater Toronto Area markets. Services include expert event planning and catering for casual lunches, seminars, conferences, product launches, release parties, corporate affairs and weddings, among other social events. Born out of the philosophy that exceptional food must not only be meticulously prepared, but also artfully presented, Impeccable Taste service offerings include colourful, eclectic and progressive menu options. Visit itcatering.ca for more details.