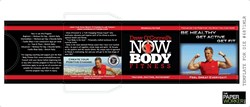 - "Drew is the most talented fitness coach that I have ever worked with...He is positive, motivating, fun and you will get in the best shape of your life!" Tammy ann CasperSupervising Producer"Grey's Anatomy"
Los Angeles, CA (PRWEB) January 21, 2014
Drew O'Connell, master trainer and owner of Now Body Fitness, has released a 15-minute "Body Weight Workout" DVD series featuring the theme "Get Active, Be Fit & Feel Great Everyday."
O'Connell started this business in 2007 focusing on molding functional, science-based fitness training programs to meet the needs of individuals, couples and groups. O'Connell brings fitness and nutrition coaching to his clients across the country, but also provides personalized online training called "skypercise" and Fitness Coaching Programs listed at http://www.nowbodyfitness.com.
This DVD series includes eight 15-minute workouts that can be done anywhere, from home, office or hotel room. O'Connell also encourages clients to take their work-out routine outdoors. There is no equipment needed for these routines; Drew says, "Your body is the gym." The exercises and fitness coaching tips are crafted for of all ages and fitness levels.
The series was shot in Los Angeles, Calif., and produced by Tammy Ann Casper, supervising producer of "Grey's Anatomy." The DVD series is available online at http://www.nowbodyfitness.com.