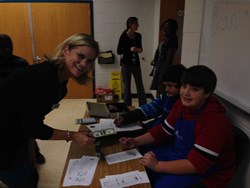 'It is important that students learn the importance of saving money while they are young,' stated Sharon Leake, Belvoir Federal Installation Liaison
Woodbridge, VA (PRWEB) December 18, 2013
Belvoir Federal Credit Union and partner, Fort Belvoir Elementary School, ramp up efforts for financial education by kicking off a student run credit union branch and introducing a financial education presentation to students, parents, and faculty.
The student run branch officially opened on December 5, 2013 with 14 student tellers, of which only two will work at any given time. These 6th grade tellers will operate the branch on the first Thursday of every month. The student run branch program will be supervised by elementary school counselors, Teresa Chapman, Monica Crossley, and Florence Newsome (Parent Liaison).
At the opening, Belvoir Federal also educated the audience on financial education through a presentation, discussing resiliency, an important topic of Ft. Belvoir's Garrison. The presentation was given by Belvoir Federal's Financial Coach, Shannon Tackett.
Belvoir Federal's Installation Liaison, Sharon Leake, who works closely with this initiative stated, "It is very important that students learn the importance of saving money while they are young. Plus the responsibility it takes to care of someone else's money is a very valuable lesson for the student tellers. Our goal is for the students to learn responsibility, to show up for their job each month, and the importance of saving."
About Belvoir Federal Credit Union
Belvoir Federal is a member-owned, full-service financial institution that provides the foundation for the financial success of our Members. Belvoir Federal, a not-for-profit organization, has served the Fort Belvoir and U.S. Armed Forces community since 1946 and named 2014 Best Places to Work in Virginia. For more information about Belvoir Federal, please visit http://www.BelvoirCreditUnion.org.
###