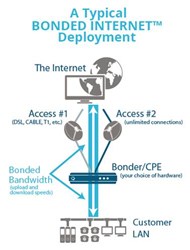 We're excited to be able to offer some very competitive products in areas in which fiber solutions are either unavailable or exceed an SMB customer's budget.
Vancouver, B.C. (PRWEB) January 29, 2014
Independent British Columbia-Based Teliphone Navigata-Westel (TNW) today announced its partnership with Multapplied Networks, the leading provider of internet access bonding solutions. The new partnership allows TNW to sell Ethernet alternatives to its business clients across Canada.
"The bonded market is exploding," explains Teliphone Navigata-Westel's Vice-President of Product Development and Marketing Eric Unrau. "We're excited to be able to offer some very competitive products in areas in which fiber solutions are either unavailable or exceed an SMB customer's budget."
"Now, we can give customers a choice," Mr Unrau continues, referring to the latest products to be rolled out by the Competitive Local Exchange Carrier (CLEC). Teliphone Navigata Westel will offer three products to the market beginning in January of 2014. Business customers will be able to get a 25Mbps (Downlink) by 3Mbps (Uplink) product, a 50Mbps (Downlink) by 6Mbps (Uplink) product, as well as a 100Mbps (Down) by 10Mbps (Uplink) service in most serviced geographies. The service will be branded as Rocket Bonded DSL™.
"We're very pleased to have TNW as a delivery partner," comments Jake McGuire, Vice-President of Global Sales for Multapplied Networks. "TNW is a leading CLEC with the perfect mix of services and facilities for applying Bonded Internet™. We see this partnership as a major growth play for Multapplied which will strengthen our already industry-leading hold on the market. As with any partnership we're in, we're confident the value is equally appreciated by TNW."
Bonded Internet™, the brand name for the service, is developed by Multapplied Networks and is distributed globally through a network of channel partners. The service allows business clients to combine the bandwidth of multiple internet/access connections (T1, DSL, 3G, WiMax, Cable). The bonded service is delivered via a single IP address – making the management of the LAN as easy as if the customer had only a single connection. On top of the bandwidth improvements, Bonded Internet™ provides customers increased uptime even when the connections are from different service providers, or from different delivery points (Central offices).
"At TNW, the customer experience is critical to our business," explains Mr Unrau. "This new service will give customers the ability to operate using a high-speed, high-availability network connection, but without the usually high price tag associated with fiber." Mr Unrau also points out that for multi-site enterprises, the cost-savings of choosing their Rocket Bonded DSL™ service quickly adds up, making the service ideal for its distributed enterprise clients.
About Teliphone Corp. / Teliphone Navigata-Westel Inc.
From its origin in 1957 as BC Rail Telecom, to its evolution into Teliphone Navigata-Westel, the company, with over 117 employees and over $43 million in annualized sales, it is now one of the largest independent facilities-based Competitive Local Exchange Carriers (CLEC) in Canada. The company provides voice, data, broadband Internet, IT support, Cloud computing, Co-location data centres and IPTV service across Canada. Teliphone services carriers, business, government and residential customers on a national network which includes a wireless backhaul network, a trans-Canada SONET fibre optic network and multiple CLEC/ILEC mutual CO facilities. Teliphone also operates a US network and its voice and IPTV services are available in 47 countries.
For more information about TNW's services, please call 1-800-834-5675
About Multapplied Networks
Multapplied Networks is a network software developer with the vision of delivering cost-effective network products that multiply internet performance for corporate networks around the world. Our Bonded Internet™ software service combines the bandwidth of multiple Internet/access connections to provide customers with faster, more reliable networks. Bonded Internet™ is currently offered through distribution and implementation partners operating in Europe, Australia, and North America. The company began developing and deploying Bonded Internet™ in 2008. Since rebranding as Multapplied Networks in October of 2012, the company has become the leader in the category.
For more information on the service, please visit: http://www.multapplied.net.
Service Providers looking to offer Bonded Internet™ to their customers are asked to contact Multapplied's sales department at 866-578-6957.