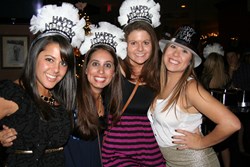 (PRWEB) December 20, 2013
What: Fadó Irish Pub offers revelers this year a fantastic kick off to the New Years Eve festivities. Perfect for a group of friends, Fado has created an affordable 3-course meal that also includes wine and glass of champagne and free entry into the New Year's Eve party that starts at 9pm. Not interested in dinner? Buy your tickets in advance and enjoy an epic night of dancing, drinking and fun! DJ Doogie will be spinning a cracking mix of pub tunes all night at the Gold and Silver themed New Year's Eve bash at Fadó to ring in 2014 in style.
When: Tuesday, December 31, 2013. Dinner reservations from 5:30-7:30pm. New Year's Eve Gold & Silver Bash starts at 9pm.
Where: 801 1st Avenue Seattle, WA 98104
Fadó is located in the heart of downtown Seattle at the corner of 1st and Columbia. The Pub is easily accessed off of I-5 and is just a short walk from Pioneer Square and Pike's Place Market. There is ample street parking and in parking lots behind the Pub on Western Avenue.
Additional info:
3-course meal costs $39.95 per person and is shared between 2 people only and includes wine, champagne toast and free entry to the New Year's Eve Bash. For dinner reservations call 206-264-2700 or email Stephanie Olsen.
Advance tickets to the New Years Eve party are available here.
$10 cover on the door starts at 9pm
About Fado Irish Pub
Fadó, pronounced f'doe, is the Irish expression meaning "long ago". The term was commonly used as the preface of old Irish stories told by the Seanchaí (Shana-kee) or storyteller. At Fadó we are telling the story of Ireland's rich and celebrated pub culture. It is a culture of hospitable surroundings, good food and good drink, and friendly conversation- what we call "craic". Join the "craic" at one of the following locations: Atlanta, Annapolis, Austin, Columbus, Chicago, Denver, Miami, JFK Airport, Philadelphia, Seattle and Washington, DC.
Follow us at @fadoseattle or join us on Facebook @fadoseattle