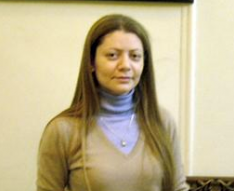 Washington, DC (PRWEB) December 18, 2013
Razan Zaitouneh, 36 years old, and a prominent Syrian human rights lawyer was kidnapped in her office in Douma by unidentified masked gunmen on December 10 2013, along with her husband Wael Hamadeh, and activists Samira Khalil, and Nazem Hamadeh.
SEE: "She Was My Mandela, Famous Syrian Activist Gets Abducted" http://world.time.com/2013/12/11/she-was-my-mandela-famous-syrian-activist-gets-abducted/
Zaitouneh is the director of the Violations Documentation Center (VDC) which has been meticulously documenting human rights violations and war crimes occurring in Syria. Zaitouneh is a stalwart and iconic figure in the revolution, speaking out against Assad regime atrocities at a time when no one else dared. She was the recipient of the 2011 Anna Politkovskaya award; the 2011 Sakharov Prize; and the 2013 International Women of Courage Award. Zaitouneh was a witness to the aftermath of the chemical weapons attacks on Ghouta in Aug 2013. She produced, along with her team at VDC, a comprehensive report on the use of chemical weapons in the Damascus suburbs.
SEE: Special Report on the Use of Chemical Weapons in the Damascus Suburbs https://www.vdc-sy.info/index.php/en/reports//chemicaldamascussuburbs#.UrJAfyhOg4M
SEE: Non-Violent Activist Razan Zaitouneh and Her Team Kidnapped in Syria https://globalvoicesonline.org/2013/12/11/non-violent-activist-razan-zaitouneh-and-her-team-kidnapped-in-syria/.
"Razan Zaitouneh represents the key foundations of Syrian revolution, demonstrating resolve, strength, and an unshakable belief in democracy and justice," said SAC Director of Operations and Development, Kenan Rahmani. "Her kidnapping is yet another setback to the secular civil movement in Syria. We cannot afford to keep losing Syria's best and brightest to the senseless violence fostered by the Assad regime. We demand the immediate and unconditional release of Razan Zaitouneh and her colleagues unharmed, and hold the Assad regime responsible for the chaos and string of kidnappings that has ensued in Syria as a result of their continued brutal repression of the Syrian people asking for freedom and democracy."
*********************
About Syrian American Council
Founded in 2005 in Burr Ridge Illinois, the Syrian American Council is the largest Syrian-American community organization in the United States. It serves to amplify the voice of the Syrian-American Community. SAC includes members from all segments of Syrian society, and has 22 chapters nationwide with thousands of supporters. It is an organization devoted to community organizing, awareness-raising, youth empowerment, media outreach, advocacy, and support for Syrians seeking to build a free and democratic Syria.