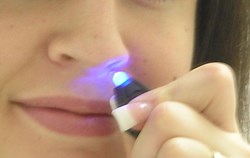 This survey provides strong evidence to the effectiveness and safety of UV-Aid.
Fort Myers, FL (PRWEB) December 22, 2013
UV Technologies, LLC of Fort Myers, Florida reported today results of a survey of UV-Aid customers for the past three years. UV-Aid technology uses light to stimulate the body to produce hydrogen peroxide through the natural process of photo-oxidation. Hydrogen peroxide is a highly effective, safe, and natural anti-bacterial and anti-viral agent. Customers and participants ranged in age from infants to adults aged 70 plus. Nearly an equal proportion of males and females participated. Exposure was restricted to four times per day with a limit of four to five seconds for nose and ear passages and seven to 10 seconds for the mouth and throat. No award or financial consideration was given for positive feedback.
Over 90 percent of respondents reported positive results. UV-Aid use included prevention of flu, colds, ear infections, sinus infections, and sore throats. A large majority, over 80 percent, said they were very satisfied with UV-Aid and nearly an equal number said they would recommend UV-Aid to a friend or family member. Zero UV-Aid customers complained of any side effects.
Less than 0.5 percent of the customers reported less than a positive experience. The primary reason for the contrary feedback was faulty or damaged units which was quickly remedied.
Kevin McGuire, President of UV Technologies, LLC, and inventor of UV-Aid stated, "This survey, covering over three years of UV-Aid use, represents users in nearly every state and a half dozen foreign countries. This survey provides compelling evidence to the effectiveness of UV-Aid and the technology which it is based. In addition to the positive survey, we have established a perfect record with the Better Business Bureau since early 2011. Photo-oxidation technology provides a viable, safe, and natural option for preventing air-borne infections in the ear, nose, and throat. Over a quarter trillion dollars in treatments, doctor visits, and lost productivity are attributed to colds, flu, and ear infections every year in the US alone, not to mention the pain, suffering, and deaths associated with these illnesses. UV Technologies, LLC welcomes inquiries from reputable medical establishments and learning institutions to further this promising innovation and technology."
Quotes from survey participants:
"Thank you very much for such a good product. We love it and use it a lot. I have 2 kids and I use it every time they are at home after school. It helps prevent cold and flu if you regularly use it. I'm planning to buy for my parents too. I recommend it to all families with kids."
"I am very satisfied with my UV-Aid. I use it to prevent sore throats, colds & earaches. I would & have recommended it. I use it every day, and earaches & sore throats are way down. I'm sure the UV-Aid has helped, because I use it at first sign of symptoms, and they always disappear."
About UV Technology, LLC:
UV Technologies, LLC's mission is to utilize light to promote health and well-being. UV-Aid helps prevent colds, flu, sore throats, sinus and ear infections through the process of photo-oxidation. Germ killing hydrogen peroxide is produced in areas susceptible to infection. UV Technologies offers other innovative products for its customers to live a healthier and more productive life including iTanSmart, an app. that helps prevent sunburns and monitor sun exposure.