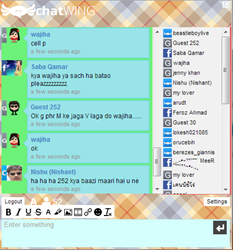 New York, NY (PRWEB) December 18, 2013
Chatwing developers have introduced another widget for start-up entrepreneurs. This time, the group has turned its focus on entrepreneurs who are planning to make a buzz in Instagram. The latest Chatwing widget—Live Chat Software App 3.5—has a reliable Instagram plugin and it is also equipped with numerous background themes and designs. Here are some of the best features of the Chatwing widget:

Social media setup. Visitors of the Chatwing chatrooms can choose from a wide array of social media setups. They can choose to log in from Facebook, Twitter, Tumblr, Instagram, Google, and Yahoo. With these variations, the chatroom visitors will have many chances to expand their social networks.
Enhanced chat networks. The Chatwing chat room is also known for its selection of chat networks. These networks are 'small lounges' that are divided according to topics. The purpose of the chat networks is to help the chat widget visitors in making new friends and acquaintances. The networks can also increase the visibility of any blog or website.
Customization choices. Instagram users can take advantage of Chatwing widget's customization choices. The users can mix different combinations in order to achieve the chatroom style they want. Additionally, they can try out Chatwing's collection of background themes. These themes are pre-made chatroom templates that can be applied instantly to save time.
The new Chatwing widget can ensure the stability of start-up entrepreneurs in Instagram. Chatwing Team will also create more enhancements to the platform in order to make it more efficient than ever.
About Chatwing.com
Chatwing.com is a company that has brought innovation to the modern chat widget. Operating for more than five years now, Chatwing and its team of developers have dozens of ideas ready to be introduced to the public. The Chatwing chat app is an easy-to-use online tool that can help web users interact with each other and can also generate continuous traffic. Chatwing will always be a "freemium" application for everyone.