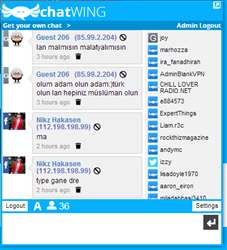 Boston, MA (PRWEB) December 19, 2013
Aspiring artists in the Instagram community can now rely on the direct support offered by the Chatwing Team. As part of the company's newest strategy, Chatwing chat rooms has launched the Instagram plugin—a function that allows people to log in with their Instagram accounts. This function can benefit Instagram artists in several, notable ways:

Better exposure. Through the Chatwing chat widget, Instagram artists will become more exposed to large groups of people. The effect is even magnified if the artists embed the Chatwing chat software tool to their blogs or websites. Embedding the tool is easy. First, the user must register through email account. Second, he can now proceed in creating the chat box. The customization process allows the user to mix different combinations.
Idea exchange. Since the Chatwing app has social networking advantages, artists can exchange ideas every now and then. They can also share their works in the chatrooms. There is no limit in sharing as many creations as possible.
Social networking. Aside from the Instagram login method, artists can use their Facebook and Twitter accounts. Now, they can even join social groups to promote their works. Recently, Chatwing website chat software has also added the Tumblr login, thus allowing Tumblr artists to become connected.
Chatwing's team of elite developers have committed large chunks of time on research alone. Through proper research, the developers can create more enhancements that will make the widget more useful than ever, especially in the field of website chat.
About Chatwing.com
Chatwing.com is a company that has brought innovation to the modern chat widget. Operating for more than five years now, Chatwing and its team of developers have dozens of ideas ready to be introduced to the public. The Chatwing chat app is an easy-to-use online tool that can help web users interact with each other and can also generate continuous traffic. Chatwing will always be a "freemium" application for everyone.