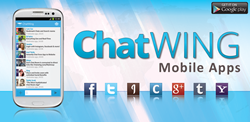 Boston, MA (PRWEB) December 20, 2013
Boston, MA – In order to support its online expansion, Chatwing Development Team has launched a short online contest for Instagram users. In this contest, the users must be able to post interesting pictures in Chatwing's primary chatroom. The pictures will be selected by the company's developers and the criteria are based on photo uniqueness, creativity, message, and timeliness.
According to Chatwing Team, the contest will run for approximately two weeks. The goal of the contest is to raise the awareness of users regarding the live chat app. The winners will be rewarded with Chatwing website chat software coins—which can then be used to purchase virtual chatroom services. Other prizes may also include Chatwing shirts, caps, and mugs.
The Instagram login method of the Chatwing tool was also introduced in a brisk pace. It received numerous positive feedbacks from Instagram communities, as well as from other online sectors. One of the main goals of the Instagram login is to create a greater sense of connectivity among users and to promote efficient business or service exposure. Instagram users can also take advantage of the Chatwing tool's premium services.
With the Chat Wing user base growing continuously, the developers are planning to create more platform enhancements. Through these enhancements, the users will have a desirable online chat experience. Additionally, they will be able to make new friends and acquaintances within a short time period.
About Chatwing.com
Chatwing.com is a company that has brought innovation to the modern chat widget. Operating for more than five years now, Chatwing and its team of developers have dozens of ideas ready to be introduced to the public. The Chatwing chat app is an easy-to-use online tool that can help web users interact with each other and can also generate continuous traffic. Chatwing will always be a "freemium" application for everyone.