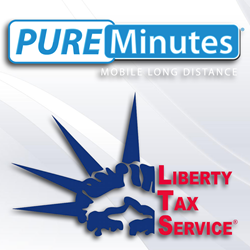 We are always seeking to partner with companies we believe can provide added value for our customers, satisfying their needs is paramount to our success
(PRWEB) December 19, 2013
Pure Minutes and Liberty Tax Service are proud to announce a partnership which joins affordable international calling solutions with one of the leading tax preparation services in the U.S. The strategic alliance connects Pure Minutes to Liberty Tax customers who seek quality tax preparation services in thousands of locations across the United States.
Liberty Tax (link), headquartered in Virginia Beach, Virginia and established in 1997, has over 4,500 locations across the U.S. and Canada. Founded by John Hewitt, a nationally recognized name in the tax preparation and accounting world, and veteran of 44 tax seasons, Liberty Tax provides friendly and accurate tax preparation with a money-back guarantee.
Every Liberty Tax preparer undergoes thorough training for both state and federal tax return structures and will always help their customers find the largest refund possible and, most importantly, deliver peace of mind. Liberty Tax's dedication to building long-term relationships with their customers and focus on providing value shows with their partnership with Pure Minutes.
Liberty Tax founder and CEO John Hewitt explains, "We are always seeking to partner with companies we believe can provide added value for our customers, satisfying their needs is paramount to our success." Eric Ramos, President of Pure Minutes added, "Our alliance with Liberty Tax helps us deliver affordable and high-quality international calling to those wanting to stay in contact with their loved ones anywhere around the world."
The venture allows Pure Minutes to market its signature low international rates at participating Liberty Tax locations around the United States. Pure Minutes offers users the ability to make international calls from any phone regardless of the current provider which means users don't have to change their current landline or mobile cell phone number. Subscribed callers simply dial a local access number and through modern "Automatic Caller Identification" software we can recognize a subscribed caller making the need for complicated PIN codes a thing of the past.
About JTH Holding, Inc.
Founded in 1997 by CEO John T. Hewitt, JTH Holding, Inc. is the parent company of Liberty Tax Service. As the fastest-growing tax preparation franchise, Liberty Tax Service has prepared almost 16 million individual income tax returns. Liberty Tax Service also offers an online tax service, eSmart Tax, which enables customers to do their own taxes wherever there's a computer. eSmart Tax is backed by the tax professionals at Liberty Tax Service and its nationwide network of over 30,000 tax preparers, ready to offer their assistance at any time. For a more in-depth look at Liberty Tax Service, visit http://www.libertytax.com.
About Pure Minutes
Pure Minutes is a leading provider of prepaid international long-distance calling solutions. We provide an affordable communication solution that offers flexibility, portability and ease-of-use for both landline and mobile users. Pure Minutes offers competitive international calling worldwide with no hidden fees, no maintenance fees, no contract required, and minutes that never expire. PURE Minutes service is sold on the web and through regional and national retailers including MoneyGram, La Nacional and payXchange and is available to customers worldwide in English and in Spanish and accepts payments through all major credit cards and Paypal.
Follow us on Twitter (@PUREMinutes), Facebook (facebook.com/PUREMinutes), and LinkedIn (PUREMinutes, LLC) for up to the minute updates.