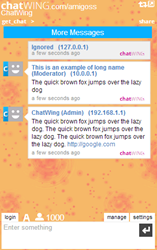 Cambridge, MA (PRWEB) December 23, 2013
Cambridge, MA – With the beginning of Chatwing's extension to Android communities, the developers have also launched enhancements to the chat room. These enhancements will ensure that all Chatwing chatrooms will become compatible to mobile users.
Chatwing's expansion to the Android community has long been discussed in the company's array of meetings. Lead developers Mike Diamond and Ted Coor believe that the expansion will increase the awareness regarding the Chatwing widget. Additionally, as the developers have stated, mobile users will be able to make new friends and social connections through the professional widget.
Using the Chatwing chatroom is easy. To start, users need to register in the Chatwing chat software database. The registration process takes only a few seconds, since Chatwing only requires an email address and a custom password. After that, users can now start creating their first chatrooms.
The customization process is where the developers have invested most of their work. There are numerous functions that users can access; they can change colors, font styles, designs, background themes, and even administrative setups. Word filters are also available to ensure that the credibility of the website chat room is not at stake. If users want to improve their online chat experience, they can just avail Chatwing's premium services.
Chatwing chat widget software developers are always dedicated in bringing quality communication experience to all users. The developers commit to this goal by enhancing and upgrading the Chatwing widgets from time to time.
About Chatwing.com
Chatwing.com is a company that has brought innovation to the modern chat widget. Operating for more than five years now, Chatwing and its team of developers have dozens of ideas ready to be introduced to the public. The Chatwing chat app is an easy-to-use online tool that can help web users interact with each other and can also generate continuous traffic. Chatwing will always be a "freemium" application for everyone.