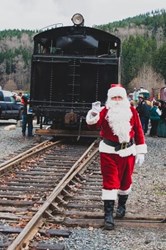 Elbe, WA (PRWEB) December 19, 2013
Elbe, Washington is home to a steam train revival. The newly rebuilt Hammond Lumber Co. engine #17 will be joined by a locomotive known as "Chiggen" a 1909 H.K. Porter steam engine. Discover how one young boy's beloved childhood icon ended up abandoned for years outside a fast-food chicken restaurant in Stockton, California. The train mysteriously disappeared only to reappear years later in the shadow of Mt. Rainier. After nearly five decades of dormancy "Chiggen" will once again chug down the tracks.
To read more on the man behind the restoration of this vintage locomotive visit: http://www.recordnet.com. For more information on Mt. Rainier Scenic Railroad or to purchase tickets to this unique event visit: mrsr.com.
About Mt. Rainier Scenic Railroad (MRSR)
The Mt. Rainier Scenic Railroad is a steam-powered heritage railroad operating in Washington State between the towns of Elbe and Mineral. MRSR is a 501(c)(3) non-profit organization and the longest continuously operating steam train railroad in the Pacific Northwest. Approximately 30,000 passengers travel the forest and foothills south of Mt. Rainier annually in passenger cars pulled by restored locomotives. The majority of the excursions are operated and supported by dedicated volunteers. A portion of the proceeds from ticket sales support continued preservation and restoration efforts.
The Mt. Rainier Scenic Railroad offers scheduled departures weekly June thru October and again during the month of December.